A tattered Harvard women's basketball team dug deep this past Saturday (Dec. 11) to hold off the feisty Central Connecticut State University (CCSU) Blue Devils at Lavietes Pavilion, 70-55. With league-leading scorer Reka Cserny '05 out with a sprained ankle, junior forward Kate Mannering – sporting a bandage all her own above her lip (concealing five stitches from a practice injury) – filled the void with a career-high 18 points on eight-for-12 shooting (in addition to a career-best four steals) to send the Blue Devils packing with a 1-5 record.
Regrettably, the return of Cserny – coupled with Mannering's recently superb play – proved far from a magic bullet against Boston University on Tuesday (Dec. 14) at Case Gymnasium. A run and gun affair with little sheen (the two teams combined for 44 turnovers), Harvard shot just 25 percent from the field in the second half to set up the team's lowest point total (52) in two seasons. Meanwhile, the Terriers, who actually fared worse in the second half, connecting on just 4 of 18 tries (22 percent), made up for their slack shooting in the rebound department. BU dominated the boards (46 to 31) to secure the seven-point win, handing Harvard a 5-3 record.
Against the Terriers, Cserny and Mannering combined for 25 points and 13 rebounds, while Mannering continued her stellar defense with four steals. At the point, junior Jessica Holsey pitched in 13 points and a block.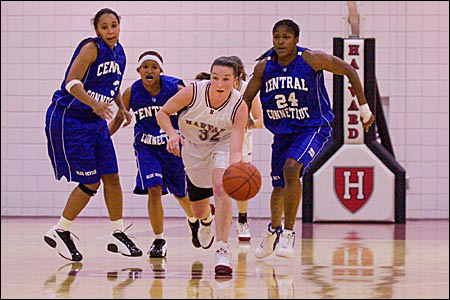 The Crimson will look to bounce back against the Hofstra Pride (4-2) on Friday evening (Dec. 17) in Hempstead, N.Y. Visit http://www.gocrimson.com for updates.