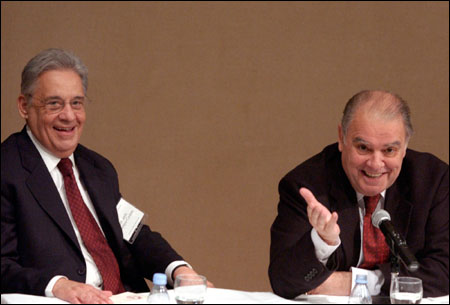 While the David Rockefeller Center for Latin American Studies (DRCLAS) marked its 10th anniversary with a celebration this weekend, the mood at a symposium Saturday morning (Dec. 4) was not all celebratory. With the events of Sept. 11, 2001, turning the world's gaze away from the region, the panel of Latin American political and economic leaders concurred, its nations are largely stagnating when it comes to improving economic productivity, educating their citizens, and strengthening their burgeoning democracies.
"Intuition as much as statistics and surveys tells us that these societies are greatly at risk," said former President of Costa Rica and Nobel Peace Prize-winner Oscar Arias. Still, Arias and his fellow panelists – former Mexican finance minister Pedro Aspe, President of the InterAmerican Development Bank Enrique Iglesias, and former Brazilian President Fernando Henrique Cardoso – found success stories in their region. With its strong economy and solid democracy, Chile was repeatedly lauded as a model. And taking a long view over the past several decades, panelists told the invited audience at the American Academy of Arts and Sciences, the region's nations and their populations are improving.
Harvard President Lawrence H. Summers, the keynote speaker at the DRCLAS's inauguration a decade ago, moderated the symposium, which was called "Political and Economic Landscape of Latin America." In his opening remarks, Summers acknowledged the importance of the center's work and of some of its primary visionaries and leaders: founding benefactor David Rockefeller '36; Director John Coatsworth, the Monroe Gutman Professor of Latin American Affairs; and former Harvard President Neil Rudenstine.
The David Rockefeller Center, Summers said, has been key to helping the University fulfill its role in promoting understanding across borders. "I'm convinced that there has not been a moment since the Second World War when there has been so much misunderstanding between the United States and the rest of the world," Summers said. "Forging greater and closer understanding in both directions is of great importance."
Progress, but not enough
Arias, who was president of Costa Rica from 1986 to 1990 and who received the Nobel Peace Prize in 1987 for the plan he drafted to end the regional crisis in Central America, presented the most downbeat assessment of Latin America's political and economic future.
"We have transparent … elections, but at the same time, new governments have not brought about the immediate improvements which voters so desperately desire," he said, calling economic stagnation a major threat to democracy. "The overthrow of presidents in Haiti and Bolivia have shown that if a democratic government cannot provide its people with the most basic necessities, it will be held in no greater esteem than the totalitarian regimes it has replaced."
Aspe, considered the architect of Mexico's successful economic reforms of the early 1990s, looked to reforms throughout the region to boost Latin American nations' productivity to the much higher level of China's or India's. While many economic and political reforms have been positive, said Aspe, others – such as giving the Mexican president power to set energy prices – have been detrimental.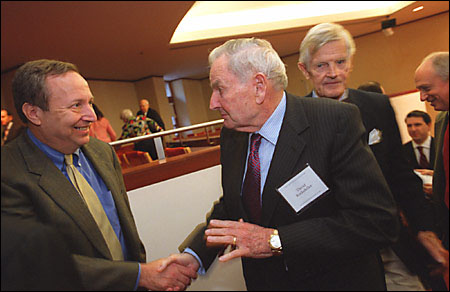 "We need to go beyond these reforms" to changes in infrastructure, he said, pointing to Chile's success with a transformed judicial system.
Also looking to Chile, Iglesias gave a rosier view of the region's ability to integrate itself into the world economy. "We can prove now that in the last 20 or 30 years, many things have happened because of our own capacity," he said.
Still, he said, the region's inefficiencies will stand in the way of it competing globally if not addressed. And Latin American countries must focus growth and policy-making on social issues, including education, human development, and microbusiness.
Cardoso, Brazilian president from 1995 to 2003, stressed the importance of democracy in securing Latin American growth. "In many ways, we are living in a democratic revolution," he said. "For the first time in Latin America, we have democracy." Democracy was key to helping curb Brazil's inflation, he noted.
While many observe that Latin America's economic growth has been modest, Cardoso pointed out that the region has seen significant social growth. "Health, infant mortality, literacy – every one is making progress, and sustainable progress," he said. Democracy is behind such progress, he said, as it demands that government respond to the needs of its people.
What's the growth engine?
In what turned out to be his sole question to the panelists, Summers challenged them to name the source of the productivity growth many of them discussed for the region. Neither the U.S. growth engine of creative entrepreneurship and customer service nor the Chinese and Indian model of high productivity in exchange for low wages seems plausible for Latin America, he said, so what will fuel its potential growth?
Panelists were nearly unanimous in their response: education. It's an area, they said, where the region has largely fallen short of expectations.
"We have chosen to be poor and to remain poor simply because Latin American countries are not educating our children," said Arias, again voicing the strongest criticism and most dour predictions. The average level of schooling in Latin America is just six years, he added. "Our productivity is extremely low simply because we are condemning our children to be peons at the beginning of the 21st century."
Summers concluded with the observation that even if Latin America managed to educate a significant portion of its population to at least the high school level, the region would still be faced with the challenge of who will employ them.
"I think that the central question is going to be how we make all these good things come," said Summers in closing. "I think this question of how one achieves both government by the people and government for the people in effective ways is going to be a profound question for the Rockefeller Center to think about in the years ahead."