As the annual Community Gifts Through Harvard Campaign gets under way toward its goal of raising $1 million, many Harvard faculty, staff, and retirees will no doubt direct their gifts toward the United Way of Massachusetts Bay (UWMB), which consistently receives more than half the donations from Community Gifts.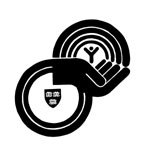 And, with a new chief executive shepherding United Way's ongoing mission to address the basic needs of children and families throughout eastern Massachusetts, United Way remains a strong and deserving partner for Harvard affiliates' charitable giving. Milton Little Jr. became UWMB's president and chief executive officer in June 2004; in his role, he oversees the raising and guiding of United Way's $40 million annual investment in community-based organizations.
"On behalf of the board of United Way of Massachusetts Bay and all those who benefit directly and indirectly from our work, I would like to thank the Harvard community for its most generous contributions," said Little in a statement. "Hundreds of people's lives are materially and positively affected by your kindness and generosity."
This year, the UWMB is directing its resources toward the four "impact areas" of healthy child development, increasing youth opportunities, sustainable employment, and affordable housing. Through Community Gifts, Harvard employees can target their donation toward one of these priority areas, to a specific agency United Way serves, or to the charity's broad Community Impact Fund.
---
Harvard employees have received their Community Gifts Through Harvard pledge materials in the mail. For more information, or to pledge online, go to www.community.harvard.edu/communitygifts.
---
Former Harvard Overseer Tom O'Donnell '46, who is a retired partner and of counsel at Ropes & Gray after a long career there as a labor and employment lawyer, believes in United Way so much he devotes more than money to the charity. Since 1986, O'Donnell has been a member of UWMB's volunteer board of directors; he served as the Board's chair for three years beginning 1997.
"The United Way uniquely brings together the strengths of the whole community to address the widest range of human needs," he said.