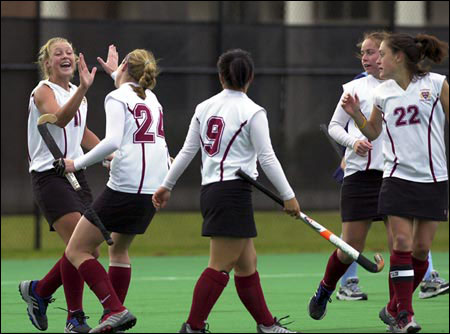 Harvard field hockey blanked visiting Columbia, 2-0, on Saturday (Nov. 6) to close out the Crimson's regular season and improve the squad to 11-6 (6-1 Ivy). With the win, Harvard splits the league title — the stickwomen's first in 13 years — with Penn (13-4; 6-1 Ivy).
Next up, the Crimson, who earned an automatic bid to the 2004 NCAA Field Hockey Championships by virtue of their 3-1 win against the Quakers earlier in the season, will face No. 2-seeded Wake Forest in the first round this Saturday (Nov. 13) at 11 a.m. at Jordan Field. Harvard was recently named one of the four regional host sites, much to the satisfaction of head coach Sue Caples.
In the second game, Connecticut and Northeastern will square off at 2 p.m. The winner of Saturday's match-ups will meet on Sunday (Nov. 14) for the right to advance to the semifinals next weekend in Winston-Salem, N.C.
Personally speaking: Midfielder Shelley Maasdorp '05 was recently named Harvard field hockey's first Ivy League Player of the Year in 13 years. The senior Zimbabwean has 41 points (18 goals, three assists) on the season – one point shy of Harvard's all-time single-season scoring record set by Judy Collins in 1998.