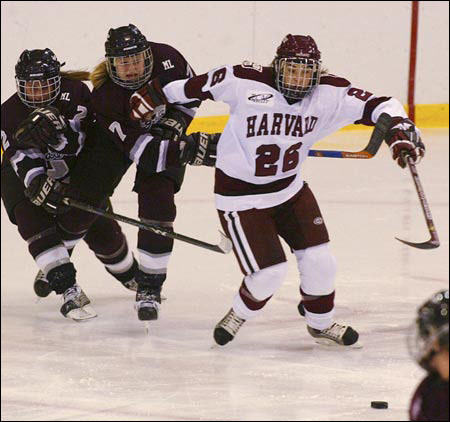 Women's b-ball poll sets pick for Crimson
Members of the media recently voted the Harvard women's basketball team second in the annual Ivy League preseason poll. The Crimson, which garnered 107 total points to finish behind Dartmouth (114 points), returns three-time All-Ivy first team selection Reka Cserny '05 and guard Katie Murphy '05.
Harvard tied for second place a year ago and will open up its 2004-05 season on the road at Fairfield University, Nov. 19.
Good times continue to roll for women's soccer
Hot on the heels of wrapping up a winning regular season, the Harvard women's soccer team (8-6-2; 4-3-0 Ivy) will get a shot at postseason play against the University of Connecticut (16-6-1) on Friday (Nov. 12) at Morrone Stadium in Storrs, Conn. The Crimson – one of 64 teams nationwide chosen for the 2004 NCAA tournament – managed a 1-0 win against the Huskies this past October. Visit http://gocrimson.com for the latest updates.
– Compiled by Andrew Brooks