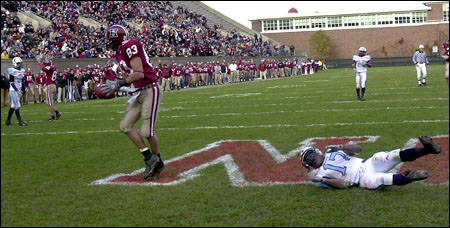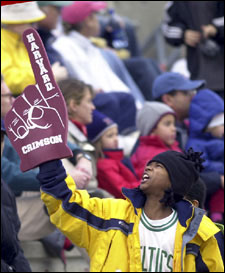 Following the Harvard football team's 38-0 blanking of Columbia this past Saturday (Nov. 6) at the stadium, running back Clifton Dawson '05 might feel right at home aboard a roving parade of Duck Boats. The sophomore sensation put the Crimson up 6-0 on a 2-yard run to collect his 96th point of the season, breaking Harvard's 92-year-old single-season scoring record. Consider the great curse of Charles Brickley '15 – who set the record in 1912 with 94 points – reversed.
That the Division 1-AA scoring leader was held to just one touchdown ought to provide some consolation for the Lions (1-7; 1-4 Ivy). Unfortunately for Columbia, the 15th-ranked Crimson found plenty of offensive might from the usual, and the not-so-usual, suspects. Namely, in the latter category, tight end Jason O'Neill '06 reeled in a pair of TD passes – marking not only his first touchdowns in collegiate play, but also his very first career receptions, period. Senior staple Brian Edwards, meanwhile, racked up 206 all-purpose yards, including an 81-yard punt return to leave the Lions behind, 21-0.
All told, the Crimson twice went three-for-three in the possession-to-scoring department – scoring 21 straight points in the first half, and another 17 in the third quarter, as the Harvard defense stopped all 13 of Columbia's third-down conversion tries to keep the Lions scoreless. Quarterback Ryan Fitzpatrick '05 completed 12 of 18 tosses for two scores, 121 yards, and one interception, while backup play-caller Garrett Schires '05 completed two passes for 29 yards, including an 8-yard toss for Harvard's final score late in the third quarter.
The win not only keeps the Crimson's perfect season intact, improving coach Tim Murphy's team to 8-0 (5-0 Ivy), but also sets up an unofficial Ivy title match-up against reigning champion Penn (7-1; 5-0 Ivy) this Saturday (Nov. 13) at 12:30 p.m. at Franklin Field. With two league games remaining this season, the winner of Saturday's game is guaranteed at least a share of the 2004 trophy. Visit http://www.gocrimson.com for the latest.