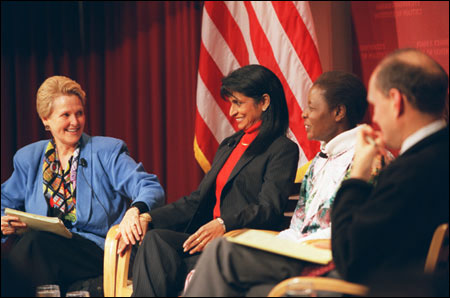 "Can women stop war?" That was one of the provocative questions posed by the Women and Public Policy Program (WAPP) and the Institute of Politics in the sixth annual Kennedy School of Government (KSG) symposium to explore women's roles in peace. The answer, according to the five panelists who participated in a discussion Wednesday night (Nov. 10) at the John F. Kennedy Jr. Forum, was a very qualified "yes." Women can stop war or build peace, the international panel said, but they also are involved in making war.
"We are part of the problem, and we can be part of the solution," said panelist Atema Eclai, a native of Kenya who has worked internationally in conflict resolution and is director of programs for the Unitarian Universalist Service Committee. For this reason, she said, it is imperative that women be granted a seat at any table where war or peace are being discussed.
Moderated by WAPP Director Swanee Hunt, the panel discussion convened three prominent women peacebuilders from around the world: Eclai, Sri Lankan Supreme Court Judge Shiranee Tilakawardane, and Masuda Sultan, program director of Women for Afghan Women and a current student at the KSG. KSG Academic Dean Stephen Walt, the Belfer Professor of International Affairs, lent a perspective from the overview of international relations.
While the United Nations Security Council passed a resolution demanding the full inclusion of women in formal and informal peace processes and other international organizations have followed suit, said Hunt, actions are lagging behind rhetoric.
"We have lots and lots of wonderful words, but the walk is having trouble keeping up with the talk," said Hunt, adjunct lecturer in public policy at the KSG.
Whether in Afghan refugee camps or KSG study groups, women can and should play a role in creating peace, said Sultan, a native of Afghanistan who grew up in the United States. It was the feminist movement in the United States and Europe that pressured the U.S. not to recognize the Taliban in Afghanistan, she noted, before the Taliban's links to terrorism were well known. "Those women knew that wherever there's oppression of women, there's other problems," she said.
"When one woman suffers, we all suffer. And when one of us enjoys, we all enjoy," echoed Eclai.
In the belly of the conflict, said Sultan, "women are a moderating force for fundamentalism, Islamic extremism, all kinds of extremism." In Afghanistan, she noted, women were among the loudest voices for disarming militias, as the women – with no arms, with children likely to go into war, with concerns for the education and health of their families – had the largest stake in security.
Eclai drew from examples she witnessed working with women in the wars in Rwanda to demonstrate women's unique roles in creating peace. Women, she said, have a right and a responsibility to engage in building and keeping peace. "We are always in the business of peace, but we are also in the business of war. We are part of the communities that create war, we are part of the families that produce the warriors, we are part of those affected by war," she said.
Tilakawardane spoke out in support of global justice as a means toward true equality for all. "The globalization of the law creates a language of peace … a charter of human rights that guarantees to all the freedoms of speech and equality," she said. "I believe that if we talk this language of global equality, we will have justice."
As the only panelist with no firsthand experience of women creating peace, Walt nonetheless prodded the panelists and audience with some intriguing paradoxes. How do we feel about women's contribution to war? Walt noted that U.S. National Security Adviser Condoleeza Rice is arguably one of the world's most influential women today, and that many women now participate in conflict as soldiers.
Citing Hunt's writing, he said that it's been suggested that some of women's unique capacities to contribute to peace are a function of their "second-class citizen" status in many countries.
"Given the social roles that women have been forced to take, they acquire certain skills – abilities to negotiate, abilities to compromise, empathy for others – that turn out to be extraordinarily valuable when peacemaking is the problem at hand," he said. "If the role of women in society were to change dramatically, do women stand the risk of over time losing some of those special capacities that have made the contributions they're making today so visible?"