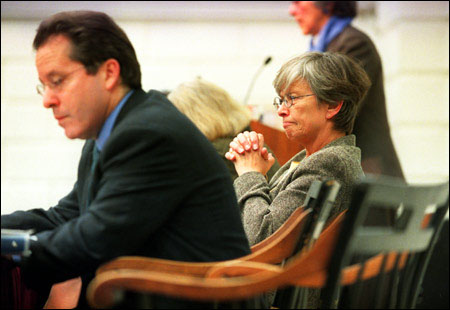 Among the most ambitious of the eight ambitious goals adopted at the United Nations Millennium Summit was the establishment of universal primary education for all children by 2015. The initiative currently has the support of 182 countries, yet its implementation faces numerous obstacles, particularly in developing countries.
These critical issues were the subject of "Education for All," an Askwith Education Forum at the Harvard Graduate School of Education (HGSE) on Oct. 26. Organized by the International Education Policy Program (IEPP) at the HGSE, the program began with remarks by HGSE Dean Ellen Condliffe Lagemann and an introduction by President Lawrence H. Summers, who, during his tenure at the World Bank, wrote the seminal paper "Investing in All the People: Educating Women in Developing Countries."
Fernando Reimers, associate professor and director of the IEPP, moderated the panel, which included representatives from the Asia Society, the Botwinick-Wolfensohn Foundation, the Council on Foreign Relations, and the United Nations Children's Fund (UNICEF). Reimers described the panelists as "exemplary role models of global citizens."
"In the developing world, poverty is probably the key factor in excluding children from school," explained Elaine R. Wolfensohn, vice president of the Botwinick-Wolfensohn Foundation. "Once in school, the quality of teaching, the curriculum, and textbooks combine with 'language of learning' issues to hold children back."
For 30 years, Wolfensohn has traveled around the world and observed schools in developing countries. Just back from visiting Ethiopia and Madagascar, two of the world's poorest nations, she noted that, despite their poverty, "they can be among the countries that overcome obstacles to learning. They have leaders who are committed to education and governments that are working well with donors. But they will also need greater financial investment into the system."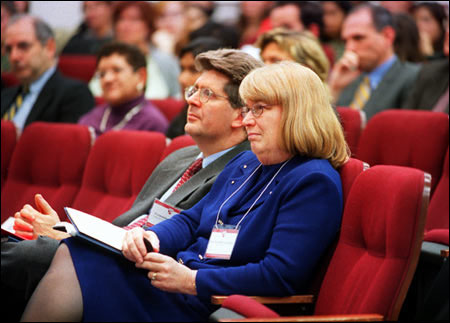 She also cited the importance of Summers' publication, which argued that the highest return of investment available in the developing world is in the primary and secondary education of young girls. "I certainly agree with that assessment," said Wolfensohn. "Girls' enrollments are trending upwards. But evidence is piling up that girls are still being excluded, even when they've made it through the classroom door. They're being excluded from learning."
Carol Bellamy, the executive director of UNICEF since 1995, asked, "Where is the world community on education? We keep saying we're going to do something about it. It's worth taking a look at where we are.
"The good news," continued the former Institute of Politics fellow, "is that there are more children in school than at any other time. The bad news is that population growth has continued. Over 100 million primary school age children are not in school and a little less than 60 percent of that number are girls."
Bellamy suggested several ways to increase enrollment, including abolishing school fees and hidden fees; subsidizing household incomes; and considering safety and security issues. "Schools should be close to where children, especially young girls, live," Bellamy said. "Violence against girls is growing around the world – in the schools themselves, and on the way to school."
Gene B. Sperling, a senior fellow at the Council on Foreign Relations and director of its Center for Universal Education, described the goal of universal primary education by 2015 as "simultaneously the world's most pathetic and ambitious goal. Ambitious because today only 36 of 155 developing countries are on tap. Pathetic because I don't have an answer when a youngster asks me 'Why only primary education?' and 'Why not until 2015?'"
Sperling offered his hope for a global compact in which developing countries that do the right thing for their children will have a certainty of assistance from developed countries. "But we're not doing our share financially in this country," said Sperling, the National Economic Adviser during the Clinton Administration. "We ought to care about universal basic education at least in Muslim countries. In showing our hearts and expanding children's minds, we'd do more to promote U.S. goodwill in foreign policy than almost anything we can do."
The IEPP brings 60 students from around the world to Harvard each year. The program provides an environment for investigating and discussing practical approaches for improving the quality of education available to children from all backgrounds.