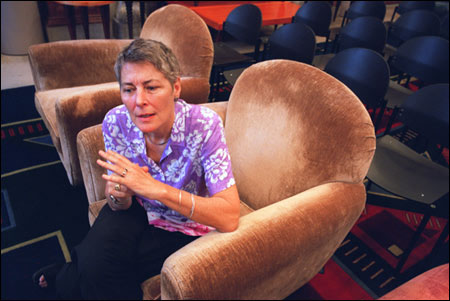 Effective Feb. 1, 2005, Jennifer Leaning, professor of international health at the Harvard School of Public Health (HSPH), and assistant professor of medicine at Harvard Medical School (HMS), will be affiliated with the Radcliffe Institute for Advanced Study as a senior adviser in international and policy studies. Leaning will retain her positions at HSPH and HMS during the three-year appointment. As senior adviser, she will join other faculty of the University who devote a portion of their time to Radcliffe Institute program development and administrative leadership.
"Professor Leaning's work on human rights and on the aftermath of war and disaster has engaged her across the globe and across the medical and social sciences. Her broad international and interdisciplinary vision and her history of intellectual engagement with nearly every school at Harvard will make her an invaluable resource for Radcliffe," said Radcliffe Dean Drew Gilpin Faust, adding, "I am delighted that she will be bringing her very important perspectives to the work of the institute."
"I look forward tremendously to participating in the work of the institute and am very grateful for the opportunity this new role offers," Leaning said.
Leaning earned an S.M. in population and international health from HSPH and an M.D. from the University of Chicago. She is a graduate of Radcliffe College (where she won the Captain Jonathan Fay Prize, Radcliffe's highest undergraduate honor). In addition to her work as professor of international health at HSPH, Leaning also directs the Program on Humanitarian Crises and Human Rights in the François-Xavier Bagnoud Center for Health and Human Rights. An attending physician in the Emergency Department at Brigham and Women's Hospital, Leaning's research and policy interests include problems of international human rights and humanitarian law, humanitarian crises, and medical ethics in disasters and emergencies. These interests have taken her around the world – to the West Bank and Gaza, the U.S.S.R., Mogadishu, Rwanda, Congo, Albania, Kosovo, Afghanistan, Ethiopia, and the Chad/Sudan border.
She has written and lectured extensively on her experiences and has testified before Congress. In addition, she serves on the board of directors of several organizations, including Physicians for Human Rights (where she was a founding board member), the Humane Society of the United States, and the Massachusetts Bay Chapter of the American Red Cross. She is chair of the Harvard University Student Health Coordinating Board and visiting editor of the British Medical Journal.