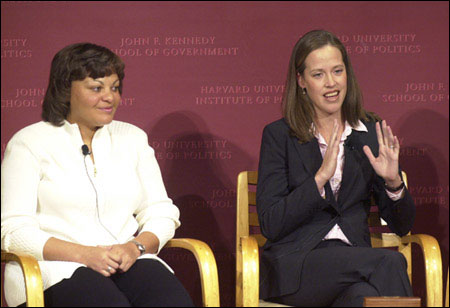 Louisiana State Rep. Karen Carter, author of a controversial law to reform New Orleans' failing public schools, and Wendy Kopp, who dreamed up Teach for America in her Princeton dorm room, are the first recipients of the John F. Kennedy New Frontier Awards, announced the Institute of Politics (IOP) and the John F. Kennedy Library Foundation. Sen. Edward M. Kennedy, D-Mass., and Caroline Kennedy presented the awards, which honor Americans under 40 – one elected official and one nonelected individual – who have committed their lives to public service, at a ceremony Monday (Nov. 15) at the Kennedy School of Government's John F. Kennedy Jr. Forum.
The New Frontier Award "follows along one of President Kennedy's very strong beliefs, that is that young people really can make a difference," said Sen. Kennedy, a member of the Senior Advisory Committee of the IOP. "All they have to do is be asked."
In creating programs like the Peace Corps and the National Health Service Corps, said the senator, his brother sought to tap the energy and talent of the nation's young people.
Speaking via satellite, Caroline Kennedy, president of the John F. Kennedy Library Foundation and also a member of the IOP's Senior Advisory Committee, lauded Carter and Kopp for heeding her father's call to service.
"They have shown us that whether it's through elective office or community service, we each have something to contribute and a way that we can work to change the lives of those around us," she said. "They've done it by tackling what I think is the most important issue that we face in our society, and that is how we raise our children and give them the chance to participate in our democracy and give them the education they deserve."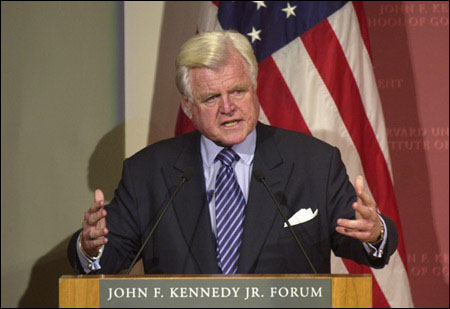 Kopp, 37, launched Teach for America in 1989 after outlining the idea for it in her senior thesis. In pursuing her research, she said in a conversation with IOP Fellow and news anchor Kathleen Matthews following the awards presentation, she was inspired by Sargent Shriver's "The Towering Task," a report to President Kennedy that recommended the structure for launching the Peace Corps.
Since 1990, Teach for America has sent more than 12,000 of the nation's top college graduates to teach for two years in low-income rural and urban communities. "I truly believe that youth and inexperience were my greatest assets," she said. "I just didn't know why this couldn't be done."
Carter, 35, has represented New Orleans to the Louisiana State Legislature since 1999. Hailing from a politically active family, she heard the call of public service much earlier, she said, assisting efforts to organize African Americans by passing out "get out the vote" leaflets at age 7.
Carter made her mark earlier this year when she authored and won passage of a controversial new law to reform the management of the failing New Orleans school district. "The status quo is something that is unacceptable," she said of the reforms, which pitted her against some of her friends and political allies. "While I'm not sure this is the answer, I'm sure it is part of the solution."
---
New Frontier Awards on the Web
---
Both women shared inspirational words about their chosen professions and how they might continue to involve young people in community service.
"Through Teach for America you see play out in your classrooms all of this country's greatest social issues," said Kopp. "I truly think it's impossible to teach successfully in low-income communities without leaving that experience asking yourself, 'What more can I do?'"
"It's so fulfilling and refreshing to see the fruits of your labor," Clark said of political office. "Don't expect others to step up in that time of need. … If not us, then who?"