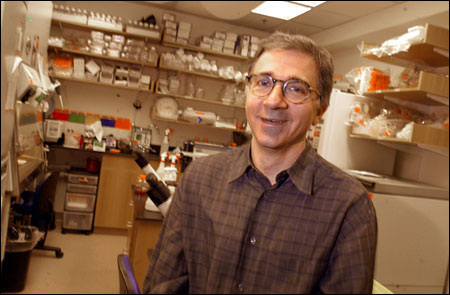 Douglas Melton has been named one of Scientific American's 50 national leaders in science and technology for 2004. The Thomas Dudley Cabot Professor of Natural Sciences was recognized for his work over the past year in developing 17 news lines of human embryonic stem cells, part of a long career researching the pancreas and its role in diabetes.
Melton, 51, is co-director of Harvard's Stem Cell Institute and its Center for Genomic Research, as well as an investigator of the Howard Hughes Medical Institute. He and 49 other leaders in research, business, and politics were selected by the science magazine's board of editors working in concert with outside advisers.
The awardees will be honored Nov. 16 at a celebration at the New York Academy of Sciences in New York City. The complete list of winners will be published in the December issue of the magazine and on its Web site at http://www.sciam.com.
"Scientific American believes strongly that the best hope of a safer, healthier, more prosperous world rests in an enlightened use of technology," says Editor in Chief John Rennie. "[This award] is our annual opportunity to salute the people and organizations making that possible through their outstanding efforts as leaders of research, industry, and policy-making."
Melton said he was "delighted" to be part of a group whose previous winners include Roderick MacKinnon, winner of a 2003 Nobel Prize for Chemistry; Burt Rutan, designer and builder of the first commercial space plane, and Steven Jobs, head of Apple Computer Inc.
Melton's other prizes and awards include the Lounsberry Medal from the National Academy of Sciences in 1995, and the Joslin Medal in 2003. He is a member of the National Academy of Sciences and the Institute of Medicine, and the author of more than 100 scientific publications.
Born in Chicago, Melton earned a bachelor's degree in biology from the University of Illinois. He then went to Cambridge University in England where he received a B.A. in history and philosophy, and a Ph.D. in molecular biology.
Melton came to Harvard in 1981. His research has focused on understanding how the human pancreas develops and to apply that understanding to provide a source of cells to use for treatment of the millions of people with diabetes, including his own two children. Over the past several years this quest has led him to explore and advocate the use of human embryonic stem cells for this purpose.