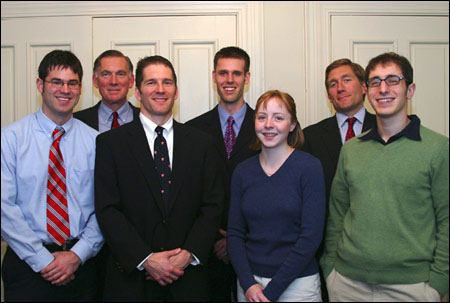 In a gathering marked by friendly exchanges of thanks and praise, the first recipients of the Ashford Dissertation Fellowship and Ashford Graduate Fellowship in the Sciences met the family that made their awards possible. A luncheon at the Harvard Faculty Club on Nov. 1 celebrated the occasion.
Theodore H. (Ted) Ashford '58 and his sons, Theodore III '86 and Timothy '88, traveled to Cambridge from Delaware to meet Angela M. (Angie) Berg (Organismic and Evolutionary Biology), Eric S. Calderwood (Romance Languages and Literatures/Spanish), Andrei O. Pop (History of Art and Architecture), and Scott B. Raymond (Biophysics). Other attendees included Administrative Dean of the Graduate School of Arts and Sciences Margot N. Gill and Professor of Biophysics and Master of Dudley House James Hogle.
Peter T. Ellison, dean of the Graduate School of Arts and Sciences, welcomed the participants with a note of appreciation for what the Ashfords had done. "There are some undergraduates whose light shines so brightly that we simply must convince them to come to Harvard for their graduate work. With the help of the Ashford Fellowships, we have been successful with four truly outstanding students this year."
Speaking on behalf of the family, Ted Ashford paid tribute to his wife, Jane, who died last year, just as the fellowships were formally announced. "There is another Ashford who could not be here today," he said, "but she would be extremely interested in what all of you are doing." He also characterized the fellowships in terms of how his family approaches its projects. "In business and in philanthropy, we look for opportunities to achieve leverage. We see a lot of leverage in helping bright young people grow and extend their capabilities."
Ted III also noted his mother's influence on the creation of the fellowships, recalling that "she always told us to find good people and help them." For Timothy, the event embodied his parents' values: "Once again, I see their commitment to generosity and ethics," he said.
The new fellows described some of their work to the Ashfords and thanked them for their support. After the luncheon, fellow Calderwood remarked, "The Ashford Fellowship made a difference in my choosing Harvard because it will allow me to concentrate on my fifth-year dissertation without having other concerns, such as teaching. It also gives me more freedom to consider opportunities abroad during summer breaks, which is important because my work is international and comparative in nature."
Scott Raymond said that the fellowship has been essential to supporting his interest in work that combines applied physics and neuroscience: "The Ashford Fellowship has been critical in allowing me to pursue multidisciplinary, collaborative research in biophysics. Traditionally, students are funded primarily by the investigator for whom they work. If a student wishes to collaborate between two or more labs, it can be difficult to find the funding. With this fellowship, I am free to pursue such a project without worrying about the money."
The Ashford Fellowships began with an idea that took many people to turn into reality. As Ted Ashford's 45th reunion approached, he knew he wanted to make a different kind of gift in honor of the occasion, and members of his immediate family shared his interest in Harvard. In addition to his sons having both graduated from the College, Jane Ashford attended the Harvard-Radcliffe Program in Business Administration at the Business School.
Ashford found himself intrigued by a renewed emphasis on graduate education at Harvard. For example, President Lawrence H. Summers has advocated for the centrality of the Graduate School of Arts and Sciences (GSAS) to the University's mission. To improve financial aid for graduate students, he created the Presidential Fellowships. The president funded these awards for three years, with the expectation that others would step in to keep them going. The Ashfords have been among the first to take on the challenge.
"I asked people at Harvard to tell me what the new president wanted to achieve," said Ted Ashford. "When I heard about his concern over the competition we face from other schools for the most talented graduate students, I understood that something needed to be done right away or we would begin to fall behind."
One result is the Ashford Dissertation Fellowship, aimed at the most talented prospective students in the humanities and social sciences. These dissertation fellowships will benefit a total of 10 students admitted over the next five years, with Pop and Calderwood receiving the first two.
Reflecting their strong interest in the pioneering efforts being made in biology, Ashford and his family also decided to designate a previous gift in honor of his 40th reunion to establish the Ashford Graduate Fellowship in the Sciences. These fellowships provide an additional supplement per year over the next 14 years for 20 graduate students committed to combining biology with another discipline. Berg and Raymond are the first recipients of this fellowship.
Summing up his family's experience of the day and their hopes for the sustained growth of the program, Ted Ashford said, "We look forward to returning next year and meeting in a larger room."