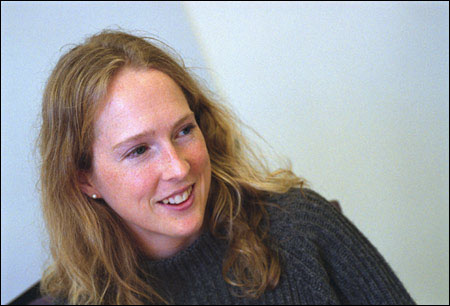 The David and Lucile Packard Foundation recently named Assistant Professor of Geochemistry Ann Pearson of the Department of Earth and Planetary Sciences as one of its 16 new Packard Fellowship recipients for science and engineering. Each fellow will receive an unrestricted research grant of $625,000 over five years.
The fellowship program was established in 1988 and arose out of David Packard's commitment to strengthening university-based science and engineering programs. By supporting unusually creative researchers early in their careers, the foundation hopes to develop scientific leaders, further the work of promising young scientists and engineers, and support efforts to attract talented graduate students into university research in the United States.
"The long-term commitment to the fellowship program has enabled scientists to pursue innovative lines of scientific inquiry and to inspire and train the next generation of young scientists and engineers," said Lynn Orr, Keleen and Carlton Beal Professor at Stanford University and chairman of the fellowship advisory panel.
The David and Lucile Packard Foundation is a private family foundation created in 1964 by David Packard, co-founder of the Hewlett-Packard Company, and Lucile Salter Packard. The foundation provides grants to nonprofit organizations in the following program areas: conservation and science; population; and children, families, and communities.
The program funds fellows' research in a broad range of disciplines that includes physics, chemistry, mathematics, biology, astronomy, computer science, earth science, ocean science, and all branches of engineering.