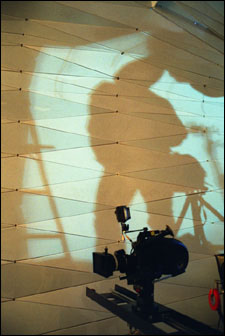 If you've walked or driven along Quincy Street recently, you might have noticed something strange lurking beneath the Carpenter Center – something huge and vaguely oval-shaped, gleaming white but starting to acquire a patina of bright green.
Has Le Corbusier's only building in North America laid an egg? Have the copulating pianos that some observers claim to see in the building's topology finally conceived? After all, it's been 40 years, which just might be the gestation period for late Modernist, poured-concrete structures – who's to say?
But no – a closer inspection reveals that the object has been fashioned by human hands. In fact, its geodesic framework is held together with so many bolts and wing nuts that a great many human hands must have been busy over quite a long period of time. And if this is an egg, it must be one of the Fabergé variety, because it is open at both ends, affording a view of the hivelike space within.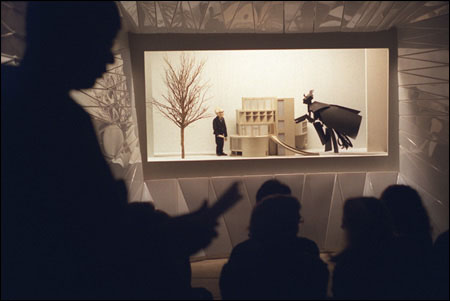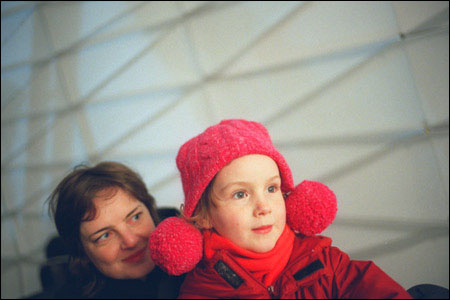 In fact, this ovoid colossus turns out to be a theater, and a puppet theater, at that. On Nov. 18, between 6 and 8 p.m., audiences (about 40 people at a time) will enter the structure to see a 20-minute puppet opera dramatizing the creation of the Carpenter Center in honor of its 40th anniversary.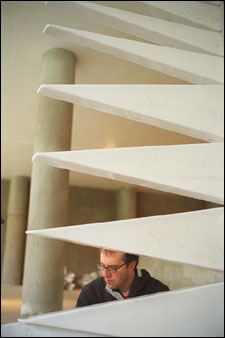 Custom-crafted marionettes will represent Le Corbusier; Josep Lluis Sert, former dean of the Graduate School of Design (GSD); Eduard Sekler, co-founder of Visual and Environmental Studies (VES); a Darth Vader-like personification of bureaucracy named Mr. Harvard; and the puppet master himself, French artist Pierre Huyghe. Called "Huyghe + Corbusier: Harvard Project," the project is organized by the Harvard University Art Museums (HUAM) and is an interfaculty collaboration among HUAM, the GSD, and VES. In addition to the three live performances, a film of the opera will premiere on Nov. 18 and will be shown continuously in the Carpenter Center's Sert Gallery (through April 17).
Huyghe is a conceptual artist who works extensively with film and video, although there is almost no expressive technique that he has not laid claim to at some time or other. His many previous works include "The Third Memory," a "remake" of the 1975 Sidney Lumet film "Dog Day Afternoon" with the actual bank robber, John Wojtowicz, re-enacting the events that inspired the fictional version, and "The Story of a Feeling," which brings to ambiguous life a fictional character named Anna Sanders through the use of media and advertising techniques.
---
An opening reception for 'Huyghe + Corbusier: Harvard Project' will be held Nov. 18 from 6 to 8 p.m. at the Carpenter Center for the Visual Arts. Pierre Huyghe, the artist behind the installation, will be on-hand. Performances of Huyghe's live puppet opera and its screened counterpart will alternate throughout the evening in the Carpenter Center's courtyard and lecture hall. Admission is free.
---
Huyghe created the puppet theater in collaboration with assistant professor of architecture Michael Meredith. As plans for the structure progressed, it took on a succession of metaphorical identities including an egg, a seed, a tumor, an alien spacecraft, and Le Corbusier's brain. Assisted by computer technology and a dedicated team of GSD students, Meredith designed the system of nearly 500 polycarbonate panels that make up the structure's organic contour. The panels, each one unique in shape, are braced by aluminum ribs and held together by about 2,000 bolts. The structure will be covered by 1,500 square feet of rock cap moss (Dicranum), which the collaborators hope to plant on the terrace of the Carpenter Center when the project is finished.
Meredith says that he now realizes that he might have made the project a bit more challenging than it needed to be. Now that it is nearly finished, there is a note of weary relief in his voice as he describes the process.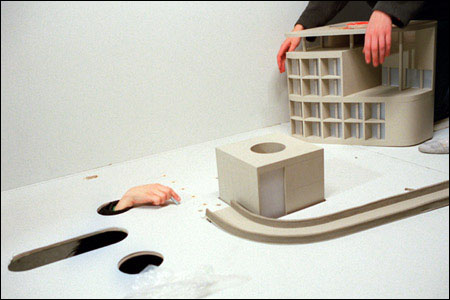 "It was a Sisyphean task where we would wake up every morning and there would be this huge egg waiting for us. You could never imagine the amount of blood, sweat, and tears we poured into this thing."