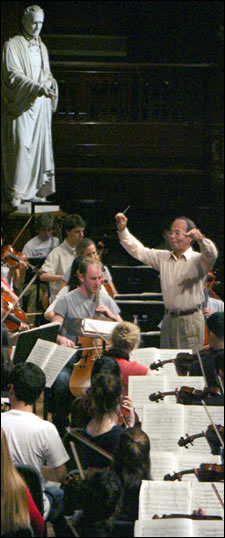 Does playing music promote longevity? Many claim that it does, although the evidence is probably more anecdotal than scientific. Well, here is one more piece of data to add to a bulging albeit inconclusive file: James Yannatos is beginning his 41st year conducting the Harvard-Radcliffe Orchestra (HRO).
The HRO itself is one of the oldest musical organizations in America. Founded in 1808, it is exceeded in age only by the United States Marine Band. To put Yannatos' tenure in perspective, consider that he has been conducting the nearly 200-year-old orchestra for one-fifth of its existence.
One might expect that whipping a large group of student musicians into shape year after year and combining that responsibility with teaching, composing, guest conducting, and performing on the violin would be enough to wear anyone down, but speaking with the trim, youthful-looking, and still enthusiastic Yannatos is enough to prove that what may be a punishing schedule for one person can be a fountain of youth for another.
Ironically, when Yannatos arrived at Harvard in 1964, there was little precedent for HRO conductors staying on for the long haul. The orchestra members themselves chose him out of a group of six candidates, but the post was not considered a permanent one. After the first year, however, he was given a lectureship without limit of time.
"It was a back door to tenure," he said.
Yannatos soon found that Harvard suited him as much as he suited Harvard. Before coming here, he had wondered whether to take his career in a professional or an academic direction. But after a few years conducting the HRO, he realized that he had the best of both worlds. So certain was he of his choice that he turned down an opportunity to become assistant conductor of the Boston Symphony Orchestra.
"It was a good decision in all ways. I'm still composing and I still do professional guest conducting, but I also enjoy working with students. It's been a very happy 40 years."
Yannatos has been a prolific composer, turning out orchestral, vocal, and instrumental works, including "Trinity Mass," a large-scale work on the subject of war and peace, "Symphony No. 4," commemorating the Tiananmen Square protest of 1989, and the recent "Songs of Life, Love, and Loss," in honor of those who died in the Sept. 11, 2001, attacks.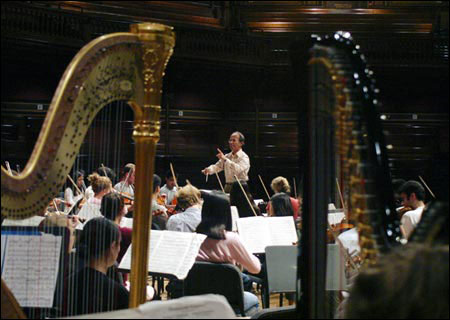 He has written many other works, not all of them inspired by tragic and cataclysmic events, but there is something in him that responds in musical language to human aspiration as well as human suffering.
"In my life as a composer," he once wrote, "I have felt compelled to use my musical voice to express my deep concern for issues that continually divide nations and people – war, poverty, and ignorance – while illuminating the beauty of life and the human spirit."
Many of his works have been performed or premiered by the HRO and other student musical groups, a circumstance that he feels has also contributed to his success as a composer, as has the time for creative work he has managed to squeeze into an academic schedule.
"If I'd become a professional conductor, I think composing would have been almost impossible," he said.
Serendipitous choices have guided Yannatos' musical career from the very
---
The Harvard-Radcliffe Orchestra (HRO) under the direction of James Yannatos begins its 197th season on Friday, Oct. 29, with performances of pieces by Dvorak and Berlioz, and the world premiere of an overture for the HRO by Anthony Cheung '04.
---
beginning. Born in New York City in 1929 to parents who were music listeners but not performers, Yannatos gave an early indication of his life direction when he asked for a toy violin in a store window. His repeated demands finally won his parents over, and he began lessons with a local teacher. The lessons paid off. He has played in the Casals Festival, with the San Antonio Symphony and still plays with chamber music groups.
Yannatos attended the High School of Music and Art in New York where he wrote and conducted his first large-scale orchestral and choral work. He earned bachelor's and master's degrees from Yale and a Ph.D. from the University of Iowa and has studied with some of the greatest teachers and musicians of the 20th century, including Darius Milhaud, Nadia Boulanger, Paul Hindemith, and Leonard Bernstein.
"All of them have taught me to see things in a whole way, and working at the University has allowed me to be a total musician," he said.
"He's a very spiritual and caring sort of guy," said friend and colleague Jameson Marvin, senior lecturer on music and director of choral activities. "He's very brilliant and young in spirit, and deep at the same time, but he also has a flexibility about him that allows him to flow with change. He's given so much to the orchestra. Harvard would be a lesser place without him."
But again, Yannatos feels he has received as much from the relationship as he has given.
"The students are tremendously talented. Many of them could go on to become professional musicians if they chose. And they're exposed to such wonderful music and such congenial society that it encourages them to be involved in a very intense way. It's very exciting, and it gives you great hope."