Between the settling of construction dust and the glitter of black-tie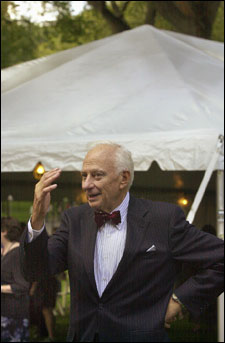 celebrations, the Widener Library rededication and ribbon-cutting ceremony Friday afternoon (Oct. 1) struck a distinctly populist balance. As students, faculty, and administrators from around the University gathered on Widener's gracious steps and spilled into the autumn sunshine of Tercentenary Theatre, Harvard's leaders applauded the dedication of those who restored the landmark building and those who toiled throughout its five-year renovation. The library remained open throughout the extensive renovations.
"This project has met what I think is the right standard. This project is as good as the people who work in this library," said President Lawrence H. Summers, acknowledging the book-shelvers, security personnel, bibliographers, reference librarians, and conservationists who kept the library functioning throughout the renovation. "Let the excellence of their work, and let the beauty of these spaces, serve as an inspiration to all visitors, students, faculty who pursue their passion in this place."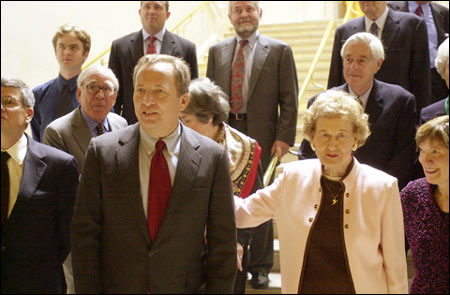 Dean of the Faculty of Arts and Sciences William C. Kirby, the Geisinger Professor of History, gave a historical perspective to the occasion, noting that when Widener was completed in 1915, the world faced international challenges and instability as it does today.
"Once again, we dedicate this place, we dedicate ourselves, to the proposition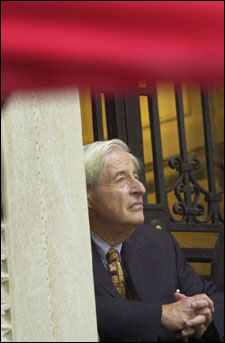 that learning is the only path to enlightenment, and that from enlightenment springs permanent improvement of the human condition," he said. Nancy M. Cline, the Roy E. Larsen Librarian of Harvard College, acknowledged the many who led the renovation from its inception through completion: the University Planning and Building Committees, the Harvard Corporation and Overseers, architects Einhorn Yaffe Prescott, and contractor Lee Kennedy Company. Her deepest thanks, however, were reserved for Widener's employees. "They never once questioned our need to keep this library open and operational throughout this entire project," she said.
Before patron Katherine B. Loker – along with long-time Widener student worker Dareema Jenkins '05 and Matthew Gibson '05, winner of the Visiting Committee's Prize for Undergraduate Book Collecting – wielded the 3-foot scissors that would slice through the ceremonial ribbon spanning Widener's pillars, Summers echoed Cline's appreciation.
"To all who work in Harvard's libraries, I hope and I believe that we have created a beautiful building that is as good as you are," he said.