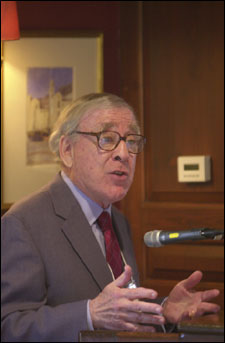 Yaa Bruce '05 conducted biomedical research in Beijing; Katherine Jarvis-Shean '05 learned the ins and outs of running an organic farm in Oliveto, Italy; and Andréa Mayrose '06 worked in a pediatrics ward at a hospital in Ngaoundéré, Cameroon – just a sampling of the variety of internships that 31 Harvard students arranged, secured, and then pursued this past summer as part of the Weissman International Internship Program. The program, which is administered by the Office of Career Services, was established in 1994 by Paul '52 and Harriet Weissman to help foster the development of Harvard College students' understanding of the wider world. Since its inception, the Weissman Program has enabled 223 students to work in 68 countries, in fields ranging from public service to business, science to arts administration. Last summer's group of 31 was the largest group to be sent abroad in the program's history.
In their midsummer reports, the 2004 Weissman Interns talked about the joys and challenges of negotiating new environments in new languages. Bridget Queenan '06, who conducted cell death research in a lab in Paris, discovered the pleasure of real lunch breaks "with time to digest." Ben Robinson '06, who taught English to Tibetan refugees in India, found himself repeatedly awakened at 3 in the morning by the sounds of his students standing outside reading from textbooks and practicing the alphabet. And Andrew Rabens '05, in his role as a U.S. State Department intern in England, reveled in the afternoon he spent chatting with Supreme Court Justice Sandra Day O'Connor.
Each year, newly returned Weissman interns are welcomed back at an annual luncheon held at the Harvard Faculty Club. On Monday (Oct. 25), the 2004 interns spoke with Dean of the Faculty of Arts and Sciences William C. Kirby and others about insights gained, perspectives shifted, and worldviews broadened. In most cases, internship experiences not only yielded impressive workplace accomplishments, but also had a significant impact on students' current and future plans. For many, having such an opportunity spurred a passion for further international experience, be it work, study, purposeful travel, or research abroad.
The 2004 Weissman Interns and their projects
Alexandra Atiya '06 (history) worked as a research intern with Prison Reform Trust in London.
Miya Bernson '06 (biology) conducted neuroscience research in the laboratory of Dr. Rosario Moratalla at the Instituto Cajal in Madrid.
Yaa Bruce '05 (biomedical engineering) researched the self-assembly of biomaterials in Professor Heng-De Li's laboratory at Tsinghua University in Beijing.
Kern Chen '05 (economics) worked as an intern analyst at Maxima Capital Management, a venture capital firm in the technology sector in Taipei, Taiwan.
Teddy Chestnut '06 (government) conducted academic research with the research area team of the Justice Studies Center of the Americas in Santiago, Chile.
Kiran Deol '05 (English) taught English and dramatic arts to orphans at the SOS Children's Village in New Delhi.
Peter Dodd '06 (international relations and religion) worked as an intern for Ambassador Edmundo Vargas at the Agency for the Prohibition of Nuclear Weapons in Latin America, in Mexico City.
Danielle Fishman '05 (Slavic languages and literatures) provided administrative support and design projects for the Center for Interethnic Cooperation in Moscow.
Kirsten Frieda '06 (chemistry and physics) conducted nanochemistry research with Dr. Wilhelm Huck at the University of Cambridge in England.
Tsitsi Gora '05 (visual and environmental studies) worked as an intern in the aboriginal department at Sotheby's in Sydney and Melbourne, Australia.
Katherine Jarvis-Shean '05 (history) interned at La Faggiola, an organic farm in Oliveto, Italy. Jarvis-Shean assisted with the practical and business aspects of the farm.
Norifumi Kamo '05 (history and science) worked with the Child Health and Social Ecology Project (CHASE) in Moshi, Tanzania. Kamo collected and analyzed data on demographics and health.
Tamara Klajn '05 (history and science) assisted the Treatment Action Campaign with its efforts to increase the public's access to and awareness/use of HIV treatments in Johannesburg, South Africa.
Andréa Mayrose '06 (social studies) assisted pediatrician Holly Nelson with medical duties at Protestant Hospital in Ngaoundéré, Cameroon.
Lucy Moore '06 (history and literature) organized and ran a summer educational program for Roma children with Fondacija Global-Kontakt in Bihac, Bosnia and Hercegovina.
Eric Nguyen '06 (government) worked in the political and economic sections of the U.S. Embassy in Paris.
Kathryn Nielson '05 (philosophy) traveled to Johannesburg, South Africa, to work with Lawyers for Human Rights, assisting with programs related to the organization's Gender Project.
Nenna Nwazota '06 (psychology) worked as a tropical medicine intern under Dr. F.I. Ebozue at the teaching hospital of the University of Nigeria, Nsukka.
Shola Olorunnipa '05 (biology) worked with researchers at the Lakoja Medical Center in Lakoja, Nigeria, and interned with the clinical staff at a nearby AIDS clinic.
Annelisa Pedersen '06 (English and music) worked as an arts administration intern at Bregenzer Festspiele, an opera festival in Bregenz, Austria.
Christopher Platts '06 (history of art and architecture) researched Italian paintings in the Berenson Collection at Villa I Tatti, in Florence, Italy.
Bridget Queenan '06 (biochemistry) conducted research on the basic mechanism of programmed cell death as it pertains to cancer. Queenan worked with Dr. Santos Susin at the Institut Pasteur in Paris.
Andrew Rabens '05 (government) worked at the Bureau of European Affairs at the U.S. State Department in London.
Stephen Robbins '05 (engineering sciences) conducted research on vertebral trabecular bone in mice. Robbins worked with Professor Ralph Muller at the Swiss Federal Institute of Technology (ETH) and the University of Zurich in Switzerland.
Ben Robinson '06 (social studies), taught English at the Tibetan Children's Villages in Dharamsala, India. Robinson also helped facilitate the International Youth Workshop on Human Rights in Asia.
Kyle Scherer '05 (American Public Policy and American Indian Politics) worked for four judges at the Land Claims Court of South Africa in Randburg.
Lewis Alex Slack '06 (history) worked with Solis, helping to develop a curriculum to educate American college students about how the media affects U.S.-Middle Eastern relations. Slack's work took him to Beirut, Lebanon, and Doha, Qatar.
Katherine Stanchik '06 (economics and Russian studies) worked with several departments on regulatory issues and security market law at the Federal Commission for the Securities Market for the Russian Federation in Moscow.
Katharine Valente '06 (social studies) was an intern with International City Management Association (ICMA) in Gujarat, India. Valente assisted ICMA with its documentation of experiences in association building and best practices in urban management.
Jacob Welch '06 (economics) assisted Innovations for Poverty Action (IPA) with two microfinance research projects in Lima, Peru.
Thomas Widland '06 (history) conducted financial economics research in risk management at Kaupthing Bunadarbanki in Reykjavik, Iceland.