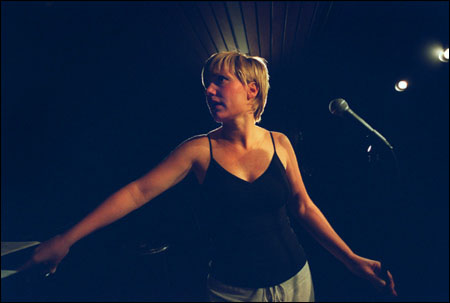 Photo by Kris Snibbe
Six years after leaving the New York City theater scene for Boston and a new job as a fundraiser, Karen Rives says her joy has returned and the Harvard community is the beneficiary.
Rives is talking about the joy she once felt acting and singing, which had been dulled, ironically, by living out her dreams.
For close to a decade, Rives made a living as an actress, spending four years working in the ultracompetitive New York theater market. Rives reels off names of shows, cast members, and directors she worked with over the years.
"There were times that I starved, but I consider myself lucky because I did work as a musical theater actress," Rives said. "I had a ball."
Though she looks back on the time with fondness, Rives said the strain of making a living eventually took its toll. After roughly eight years of acting, Rives realized she was just doing it for the paycheck.
"It was such a grind," Rives said. "I didn't feel joyful when I sang anymore. I was just trying to pay the rent."
So she came to Boston, working as a fundraiser for the Massachusetts Sports and Entertainment Commission and for City Year before coming to Harvard two years ago.
Today, as a regional director of capital giving for Harvard's Development Office, Rives says the theatrical hiatus has rekindled her enthusiasm and love of music and theater.
Rives shared her restored energy with an audience last week in her first one-woman show Oct. 22 at the Cambridge Center for Adult Education.
The show, a benefit for the Dana-Farber Cancer Institute, was called "Rubies in the Snow" and dedicated to the strong women in her life. Rives sang songs by many artists, including one she wrote herself, called "Mama's Eyes," about her mother and her late grandmother, who died of breast cancer when Rives was 4 years old.
"I have few memories of her [her grandmother], but I do recall her eyes," Rives said.
Though this is just her first show, Rives is already planning for future efforts, saying she'd like to create and perform regular shows, all to raise money for charities.
"I'm thrilled about this. I finally bit the bullet and did it," Rives said.