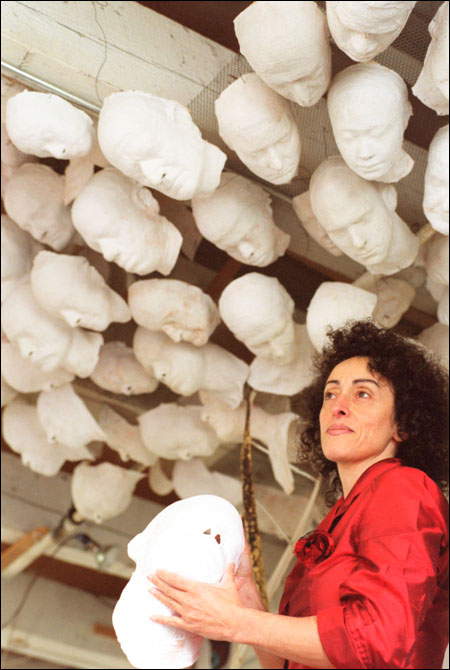 Photo by Rose Lincoln
If Sholeh Regna had followed the path laid out for her, she would be an American-educated medical doctor practicing in Iran. But because she decided to follow her own vision, she is a sculptor, painter, and video artist practicing in Somerville.
Regna came to the United States with her parents in the mid-1970s and decided to stay. The revolution that put Ayatollah Khomeini in power was still three years in the future, but Regna had already decided that her native country was too confining for the future she imagined for herself.
"I knew I wasn't going to be happy in the traditional role of a woman in Iran. For people who understand what human life means, not having it is an injustice."
She enrolled at Boston University in the pre-med program. Science courses in English were difficult, and for relief she decided to take some classes in the fine arts. Her face lights up as she remembers how much she enjoyed her introduction to formal art study. But still, she didn't abandon science. In fact, she graduated B.U. with what was probably one of the few biology/sculpture degrees ever granted. And even then, it was some time before she embraced her calling.
"It took me years after art school to realize I could survive and contribute as an artist."
She still hasn't forgotten her grounding in the sciences. Her sculptural installations explore themes of genetic engineering and the commodification of DNA. In one piece, "Time River," sculptural portraits of students from her sculpture class at the Cambridge Center for Adult Education – portraits representing different races and ethnicities – lie like stones along the course of an abstract riverbed. The piece represents her sense of how much humans have in common and how they are all swept along in the stream of time.
"It's saying that we are 99.9 percent identical. The differences are really quite minute. So how come there is so much struggle and war, so much us against them?"
Being an artist isn't easy. The money she earns through grants and fellowships has to be supplemented by teaching and by making and selling jewelry at craft fairs and retail shows. She also has had success marketing her monotypes (one-of-a-kind prints). The subjects are frequently birds, Regna's personal symbol of freedom.
And 20 hours a week she puts on the uniform of a Harvard University Art Museum guard and patrols the galleries of the Fogg, the Sackler, and the Busch-Reisinger.
"Yes, I am very busy," she says. "But then, you only have one life to live."