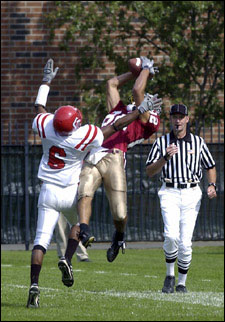 After four full quarters of on-field surprises, the Harvard football team may have blown its single biggest secret against visiting Cornell this past Saturday (Oct. 9). Pass it on, this Crimson roster runs deeper than the stat sheets might suggest.
With leading rusher (and Division I-AA scoring leader) Clifton Dawson '07 designated a marked man by the Big Red D, which effectively limited the sophomore marvel to 61 yards and one touchdown – 100 yards and two touchdowns below his season average – the Crimson found more than enough willing contributors to pick up the slack. And in the end, Harvard's balanced O served to hold off a gritty Cornell team (1-3; 1-1 Ivy), 34-24.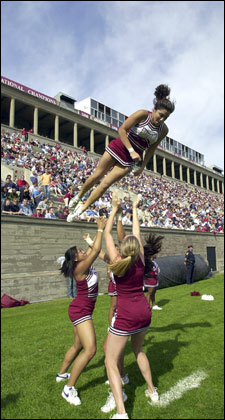 Senior quarterback Ryan Fitzpatrick led the charge in the back-and-forth battle (five lead changes in all), picking up 102 rushing yards, 317 yards passing, and one touchdown run, while wide receivers Brian Edwards '05, Corey Mazza '07, and Ryan Tyler '06 combined for 294 receiving yards and three touchdowns. Edwards also hurled a TD pass of his own and returned a second-quarter kickoff 92 remarkable yards to tie things up at 14.
Down 21-14 to start the second half, Cornell managed a quick field goal and a two-play, 80-yard scoring drive to take a three-point advantage early in the third quarter. Harvard squelched the uprising late in the quarter when Edwards, accepting a pitch from Dawson, fired the ball 21 yards to a diving Mazza in the end zone to give Harvard a 27-24 edge.
Strong defensive efforts on both ends marked the final quarter. With 2:48 left in the game, the Crimson denied a fake punt attempt, capitalizing on the stop by way of a 43-yard scoring drive, capped by a 17-yard touchdown scramble courtesy of Fitzpatrick. First-year kicker Matt Schindel (two for three on point after attempts) knocked it through the uprights to set up the 34-24 final.
Harvard, which improves to 4-0 (2-0 Ivy) with the win to remain unbeaten at the four-game mark for the third time in four seasons, hosts crosstown rival Northeastern (3-2) this Saturday (Oct. 16) at 12:30 p.m.