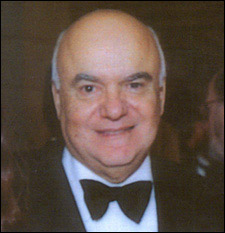 Dennis N. Skiotis, director of undergraduate studies at Harvard's Department of History from 1985 to 1998, and associate director of the Center for Middle Eastern Studies from 1976 to 1985, passed away on Oct. 19 from complications of pneumonia after a long struggle with leukemia. He was 67.
During his tenure as assistant professor of history at Harvard in the mid-1970s, Skiotis received an appointment from the U.S. Senate as Head of Mission to Cyprus. He returned to the Balkans from 1999 to 2003 as president of Athens College, and then became dean of the American College of Greece in 2004.
His lectures on military history at both Harvard College and the Extension School had a large following, and he received the Dean's Letter of Commendation for Excellence in Teaching four times during the 1990s.
A wake and service will be held on Saturday (Oct. 23) at the Greek Orthodox Church, 25 Bigelow St., Watertown, Mass. The wake will be from 8:30 to 10 a.m., followed by a service. The burial will be in the Westwood Cemetery in Lexington, Mass.