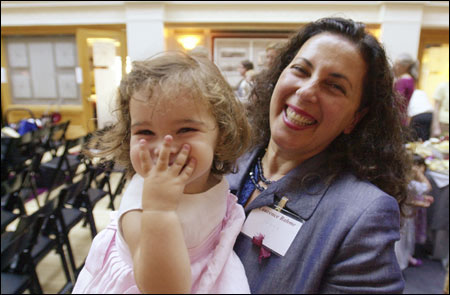 Time and money. Few professions offer such a scarcity of both as the early careers of academics and researchers.
Except perhaps parenthood.
To assist promising scholars caught in the time-money-career-family web – a disproportionately female group – Harvard Medical School (HMS), along with its affiliated institutions and other generous donors, granted 56 Scholars in Medicine fellowships of at least $25,000 at a ceremony last month (Sept. 23). Established in 1995 to mark the 50th anniversary of admission of women to HMS, the Scholars in Medicine Program aims to increase the representation of women in the higher ranks of the Faculty of Medicine by providing assistance aimed at staunching the outflow of women from academic medicine when they begin to have families.
While a fellowship cannot raise a child, HMS found that it can provide a much-needed financial cushion that might launch a research project or prevent a promising junior faculty member – male or female – from abandoning the lab altogether in favor of more lucrative clinical duties, says Eleanor G. Shore, dean for faculty affairs at HMS. Honoring the commitment of Shore, who is retiring in December, the award will be renamed the Eleanor and Miles Shore Scholars in Medicine Program at Harvard Medical School, HMS Dean Joseph B. Martin announced at the ceremony.
For Massachusetts General Hospital researcher and HMS assistant professor of surgery Laurence Rahme, the Claflin Distinguished Scholar Award may help build a better antibiotic. Rahme's work seeks to identify new ways of restricting infection by exploring new types of antibiotics that would block the ability of bacteria to be infectious, rather than simply stopping it from growing.
"We're going to limit the development of resistances," she says, noting the growing threat to public health posed by increasing bacterial resistance to current antibiotics.
As the mother of 2-year-old Giovi, Rahme finds that scaring up funding – never an easy proposition – is evermore challenging. "I used to work until 9 p.m. Now I go home every day at 6 to spend time with my daughter," she says. She'll use this award to fund a postdoctoral student who will help keep her study moving forward.
"This is going to give me breathing time for this particular person," she says. "I had to interrupt the project unless I got this funding."
When HMS instructor in psychiatry Gail Musen started a family, she also launched an almost new career. A researcher at Joslin Diabetes Center looking at the effects of diabetes on cognitive functioning, Musen, a cognitive psychiatrist, moved to Boston from a professorship at Barnard College to be with her husband, also an academic. After adopting a daughter, now four and a half, and taking a few years off, she was relieved to find challenging research work.
But while her psychiatry credentials were strong, Musen had almost no experience in diabetes work when she came to Joslin to work on a larger study on the effects of diabetes on the brain. She'll use her Joslin Diabetes Center Fellowship to conduct a study that she hopes to publish under her own name – key to establishing her reputation in the field of diabetes research and, in turn, to getting more funding.
"This will give me time to run my own study that I'm principal investigator on," she says. "It helps establish your name."
Like many busy professionals, Musen's family responsibilities squeeze her from both sides: Not only does she care for her daughter, her elderly parents require increasing attention from her, as well. Shuttling them to doctors' appointments is vital work, she says, but it also means time away from the lab.
"You can't forget your family, but it doesn't do much for your career," she acknowledges. "It's important to have a program that recognizes that you can't be here working all night when you have to go home and feed your child."