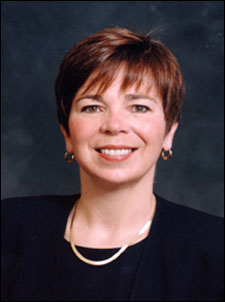 Holly Sargent has been named to a new position in Alumni Affairs and Development as senior associate dean for advancement and senior director for University Women's Initiatives. In this new role, Sargent will be responsible for identifying and engaging new sources of principal gift support for new and ongoing projects related to University priorities, with a particular focus on the international community, non-Harvard individuals, and women. Dividing her time between the Kennedy School of Government (KSG) and cross-University initiatives, Sargent will continue to work closely with the KSG Office of External Affairs and KSG Dean David Ellwood on major gifts and priority areas. The appointment was announced recently by Ellwood and Donella Rapier, vice president for Alumni Affairs and Development.
Working across the University and building on her experience at the Kennedy School, Sargent will endeavor to build the involvement of women – alumnae, in particular – in the life of the University. Sargent will work closely with the Schools to help leverage their efforts involving the engagement of women.
Sargent will also endeavor to deepen Harvard's relationships internationally, in close connection with the Harvard International Alumni Affairs Office and across the Schools. In particular, she will help strengthen the University's engagement with the World Economic Forum, based in Switzerland, facilitating and optimizing opportunities for Harvard faculty and expediting collaboration on programs.
"Holly Sargent's hard work and creative ideas over so many years have helped create a solid foundation for teaching and learning at the Kennedy School," said Ellwood. "I am grateful for everything she has done to create opportunities for the Kennedy School students and faculty, and I look forward to continuing to work with her in her new expanded role in the University."
Sargent has served four deans and the Kennedy School with distinction and dedication. Known for her innovation and persistence, she has conceived and grown programs to engage benefactors who have wide-ranging interests. These programs have resulted in major investments totaling more than $200 million during the Kennedy School Campaign and more than $100 million in the years since. These resources have created fellowships, professorships, research centers, and academic initiatives in the areas of nonprofits, women's issues, human rights, state and local government, and democracy, among others.
During her time at the KSG, she has overseen the development of a unique program of alumni outreach to Harvard's most internationally diverse alumni body, as well as expanding outreach and engagement with diverse non-Harvard individuals and institutions. In particular, Sargent has developed a distinguished advisory board of women leaders to support women's programs at the Kennedy School.
"Holly has incredible energy and determination," said Rapier. "Her tireless efforts to reach out to alumni and friends across the country and around the world have generated considerable resources for the Kennedy School, and she has always demonstrated exceptional creativity in thinking about inventive ways to generate financial support. I am delighted that she will bring her talents to bear on a wide range of important University priorities in the years ahead."
A graduate of Harvard College, where she concentrated in government, Sargent worked on Capitol Hill and in state government in Michigan before engaging in fundraising for the arts. She served as director of development for both the Boar's Head Theatre and the Houston Symphony Orchestra, and she enjoys performing with her daughters at the North Cambridge Family Opera. A native of Maine, where she met her husband, Robert Palmer, she continues to participate in boards and charities throughout the state.
"I am very enthusiastic about working with colleagues across Harvard to advance its mission and to harness potential interest and support," said Sargent. "I believe the next decade will be crucial not only for the University here in Cambridge and Boston, but also for Harvard's contributions to the world at large. I am proud and honored to take on this new challenge."