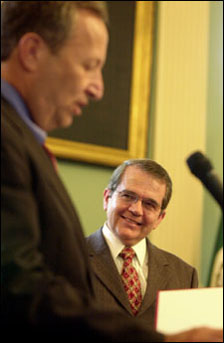 Harvard University announced a groundbreaking partnership agreement Thursday (Oct. 14) with Consejo Nacional de Ciencia y Tecnología (CONACYT), creating a premiere fellowship program at Harvard for outstanding Ph.D. students from Mexico.
CONACYT is Mexico's National Council of Science and Technology. Composed of 27 Public Centers of Research and Technological Development, its mission is to strengthen scientific development and to guide the technological modernization of Mexico. It is also Mexico's foremost agency supporting graduate education and research.
There is no limit to the number of students who will be eligible for the CONACYT-Harvard Graduate Fellowships, but administrators expect that approximately 20 to 25 new students will be supported each year. The first class of CONACYT-Harvard Fellows will begin their programs in September 2005, facilitated by the 15-year precedent of Fundacion Mexico en Harvard, the philanthropic organization of Harvard alumni in Mexico, which has supported nearly 500 scholarships worth more than $3.5 million for Mexican students at Harvard.
The estimated cost of a five-year program in the sciences at current rates, including research funds, is $230,000. Under this agreement, CONACYT will support 44 percent of that expense and Harvard University will support 43 percent. The remaining 13 percent will come from Fundacion Mexico en Harvard. For students in the social sciences and humanities, CONACYT will support 46 percent of the estimated $204,000 expense, with Harvard contributing 39 percent and the Fundacion contributing 15 percent.
In the first year, the new agreement will support 25 new Mexican Ph.D. students, which is a commitment of $1.04 million. By the second year and beyond, with approximately 25 students entering each year, the annual value of fellowships will be more than $2 million, making the CONACYT-Harvard Graduate Fellowships Program the largest single fellowship program in the Graduate School.
Harvard President Lawrence H. Summers said, "Today's agreement is a centerpiece around which other graduate fellowship programs may grow in the future. We will be recruiting the most accomplished Mexican students to our research programs, while helping CONACYT ensure the highest quality training for future leaders of Mexico."
"I am deeply gratified that CONACYT and Harvard University can so unite in their commitment to educating Mexico's most promising young scholars," said William C. Kirby, the Edith and Benjamin Geisinger Professor of History and dean of the Faculty of Arts and Sciences. "These graduate students' intellectual and cultural contributions to our Cambridge community will, in turn, challenge and enrich all of us. By joining forces, we affirm the value of higher education to advance a future that is, increasingly, a shared one."
Jaime Parada Avila, director general of CONACYT, said, "Our country is fully aware of the challenges and opportunities posed by globalization and the knowledge economy. For this reason, we need a critical mass of world-class researchers and engineers involved in cutting-edge innovation and entrepreneurial endeavors. The partnership with Harvard University should be instrumental in developing this much-needed base of human capital."
Peter Ellison, professor of anthropology and dean of the Graduate School of Arts and Sciences (GSAS), said, "This agreement joins the aspirations of CONACYT and the Fundacion Mexico en Harvard to promote the educational opportunities of the most talented Mexican students to GSAS's aspiration to be truly global in its mission and its impact. It is particularly significant since it comes at a time when so many of the signals received by international students in this country are discouraging. It indicates instead Harvard's continuing commitment to the vital flow of people and ideas."
John Coatsworth, the Monroe Gutman Professor of Latin American Affairs and director of the David Rockefeller Center for Latin American Studies, said that as a result of the partnership, "Harvard will get more of Mexico's most talented students and all that they can bring to our community. It also means that Mexico will benefit from the contributions these students will make when they return home. It's the kind of agreement a global university like Harvard should be pioneering, and it's a wonderful thing that we're doing it."
In addition to tuition and stipend support, the new funding program will provide research bonuses to the top students in the natural sciences and guaranteed dissertation completion fellowships for students in the humanities and social sciences.
Harvard Graduate School of Arts and Sciences currently has a total of 23 Mexican students enrolled in a large range of Ph.D. programs, including biomedical sciences, biostatistics, molecular and cellular biology, physics, government, economics, comparative literature, and music.