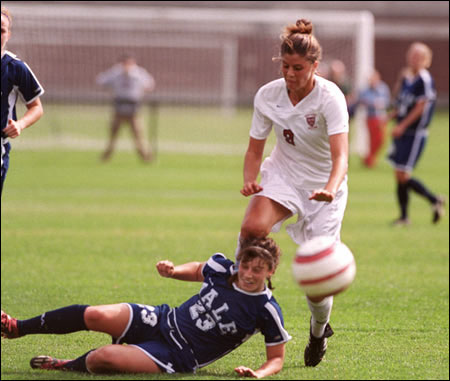 The host Harvard men's and women's soccer teams landed on separate sides of the win/loss column this past Saturday (Oct. 2) in a pair of taut, low-scoring affairs against Yale. The Harvard women managed a lone-goal win in the afternoon's opening match-up, before the male Bulldogs prevented the Crimson sweep under black clouds with their own 1-0 victory.
With the split, the Crimson women improve to 3-4-2 (1-1-0 Ivy) – and record their first Ancient Eight win of the season – while the men fall to 4-5-0 (0-1-0 Ivy), dropping their Ivy opener.
In women's action, senior forward Alisha Moran notched the lone goal for Harvard off a pretty feed from co-captain Liza Barber '05 in the 31st minute of play. Yale threatened less than two minutes later with a one-on-one break, but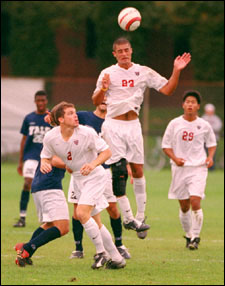 goalkeeper Katie Shields denied the shot – one of her eight saves on the afternoon – to preserve the 1-0 advantage. The remainder of the match was marked by excellent defense on both ends, as the game's two goalkeepers combined for 20 saves.
In the men's game, it was poor execution – not a shortage of offensive opportunities – that crippled the Crimson. Down 1-0 following Andrew Dealy's first-half header past Harvard's Ryan Johnson '06 (six saves), the Crimson took to the field in the second stanza with increased offensive energy. Yet the Harvard pressure had little punch, as half a dozen free kicks and corner kicks sailed over the crossbar or just wide of the net. Providing further frustration for the Crimson was 6-foot, 5-inch Bulldog goaltender Geoff Hollington, who, despite stats to the contrary (one save on the day), was absolutely huge for Yale.
The men and women will both take a crack at Cornell this Saturday (Oct. 9) at Ohiri Field. Kickoff is at 3 p.m. and 11 a.m., respectively.