The Noma-Reischauer Essay Prizes in Japanese Studies for the best graduate and undergraduate essays on a Japan-related topic were awarded on Oct. 15, at the 10th annual Edwin O. Reischauer/Kodansha Ltd. Commemorative Symposium. The Reischauer Institute of Japanese studies hosted the event.
Fabian Drixler, Ph.D. candidate in history, received the graduate prize for his essay "Infanticide and Its Enemies: Demography and Discursive Change in Sendai at the Turn of the Nineteenth Century." The undergraduate prize was awarded to Joel Steinhaus, '04 in history, for his essay "From Pal to Peril: The Devolution of American-Japanese Relations." Both prize-winners were on hand to receive their awards.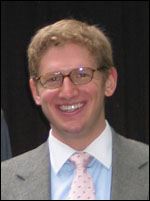 Theodore C. Bestor, professor of anthropology and chair of the Social Anthropology Wing, gave the symposium talk on "Tokyo's Pantry: The Tsukiji Marketplace and the City," highlighting the history of Tsukiji – the largest fish market in the world (six times larger by volume of fish sold than the Fulton Fish Market in New York City) – and the role of the market in the life of the city, past, present, and future, based on his recently published book, "Tsukiji: The Fish Market at the Center of the World" (University of California Press, 2004).
The deadline for submitting essays is June 30 of each year. For more information, call the Reischauer Institute at (617) 495-3220.