Professor Bernard Bailyn receives Kennedy Medal
The council of the Massachusetts Historical Society awarded the Kennedy Medal – given to persons who have "rendered distinguished service to the cause of history" – to James Duncan Phillips Professor of Early American History Emeritus Bernard Bailyn at an Oct. 7 ceremony.
Bailyn, who is also the Adams University Professor Emeritus, is one of just six historians to receive the award – the society's highest honor – since 1964.
French government honors Peter A. Hall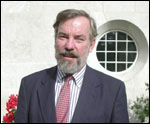 Minda de Gunzburg Center for European Studies Director Peter A. Hall was recently made a Chevalier de l'Ordre des Palmes Academiques by the government of France. The Palmes Academiques are decorations given to those who have advanced the cause of French culture, education, and the arts. They were established by Napoleon Bonaparte in 1808 and are the most prestigious honor a scholar can receive from the French government.
Former prime minister of France Michel Rocard presented the decoration to Hall, who is the Krupp Foundation Professor of European Studies, at a ceremony held at the center on Oct. 6.
Kilson delivers keynote address at UCLA
Frank G. Thomson Professor of Government Emeritus Martin Kilson delivered the keynote dinner address at a June conference commemorating the 100th anniversary of Ralph J. Bunche's birth at the University of California, Los Angeles (UCLA). The only African-American in UCLA's class of 1926, Bunche was also its valedictorian.
The title of Kilson's address was "The Young Ralph Bunche and Africa: Between Marxism and Pragmatism."
Gomes accepts honorary degree from VTS
The Rev. Professor Peter J. Gomes was awarded the honorary degree of doctor of divinity from the Virginia Theological Seminary (VTS) in Alexandra, Va., at a special academic convocation on Oct. 5. The Plummer Professor of Christian Morals and Pusey Minister in the Memorial Church, Gomes presented the annual Reinbecker Lecture at the seminary and was the preacher at the convocation service.
– Compiled by Andrew Brooks