A Harvard delegation recently traveled to Ghana to begin building a new partnership with the University of Ghana – the latest manifestation of the growing strength of African studies at Harvard.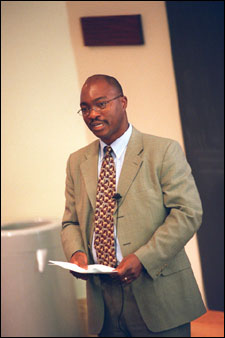 Coordinated by the Graduate School of Arts and Sciences, the interdisciplinary Harvard-Ghana partnership is already drawing researchers and students from Harvard's Law School, Business School, Medical School, and School of Public Health, in addition to the Faculty of Arts and Sciences.
The GSAS-Ghana partnership has enjoyed strong support from William C. Kirby, Edith and Benjamin Geisinger Professor of History and Dean of the Faculty of Arts and Sciences.
"We are preparing our students for life as citizens of a global society," Kirby says. "Our responsibility therefore is to educate students for a world that, while 'globalizing' in many ways, remains a world of distinct cultures."
Emmanuel Akyeampong, Harvard College Professor, professor of history and of African and African-American Studies, and chair of Harvard's Committee on African Studies, says the new partnership aims to build connections between African studies scholars on both sides of the Atlantic.
"There's not much connection between African studies inside Africa and African studies outside Africa," Akyeampong says. "We cannot pretend to have insights into Africa without dialogue. We felt that it would make sense to have a site visit, instead of sitting here in Cambridge imagining what we might do in Ghana."
Akyeampong is one of six researchers from across Harvard visiting Ghana this year. Others include Robert Bates, Eaton Professor of the Science of Government; Allan Hill, Andelot Professor of Demography in the Faculty of Public Health; Debora Spar, professor of business administration; Lucie White, Louis A. Horvitz Professor of Law; and Richard Wrangham, Ruth Moore Professor of Biological Anthropology.
"The University of Ghana has been a generous host, providing accommodations and internal transport," Akyeampong says.
As part of the Harvard-Ghana partnership, each year the University of Ghana will send two "junior scholars" – individuals who are working on their doctoral degrees – to GSAS to take courses and conduct research with Harvard faculty. GSAS will sponsor these visitors' visas and cover their tuition and health insurance, and the University of Ghana will support their living expenses. It's an opportunity for Ghanaian scholars to network with their American counterparts, Akyeampong says, returning to Ghana with a much larger professional network than might normally be possible.
The partnership will provide a new venue for graduate students in African studies to conduct research. Other benefits for Harvard include research partnerships, faculty exchange, and general access to West African scholars, officials, and policy-makers. Akyeampong says the partnership should help cement Harvard's reputation as a viable place for students and faculty to study Africa.
Akyeampong also hopes to increase the number of African applicants to Ph.D. programs at Harvard. "We'd like to try to demystify ourselves in Africa," he says.
With significant support from the Provost's Office, African and African-American scholarship has grown substantially at Harvard in recent years. This new commitment is reflected by the fact that nine African languages were taught at Harvard last year, up from just one a few years ago.
This year a new undergraduate concentration in African studies will make its debut, and Akyeampong says the Ghana component, including a possible new study-abroad option, and the University's growing attention to African languages will serve to distinguish Harvard's offerings from those at other institutions.
The changes in African and African-American studies at Harvard reflect changes throughout academia over the past several decades. In the 1960s and 1970s, many universities housed thriving African language programs, and interdisciplinary scholars compared and contrasted their own interpretations of African society. In the 1980s the focus turned to fostering economic development in Africa.
"The problem here was that such economic development tended to be something the West did for Africa, not with Africa," Akyeampong says. "I think it's important to go back to the two things that have been lost in African studies since the 1970s: language and an interdisciplinary approach."
Harvard's current approach to African studies is nothing if not interdisciplinary. Researchers associated with Harvard's Committee on African Studies cut across many of the University's faculties, studying African health, healing and ritual; political economy, development and human capital; governance, power and authority; realms of knowledge, memory and contestation; preservation and architecture; and African creativity, culture, and arts.
"There's great potential here," Akyeampong says. "The question is, 'What do we do with that?'"