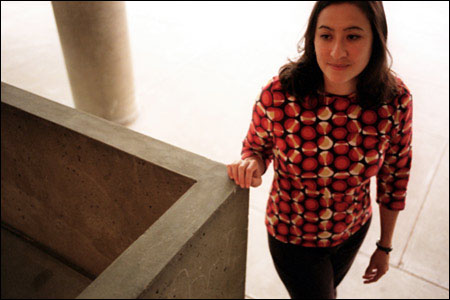 Sam has a lot of people rooting for him. His mother has built a shrine out of his gymnastics trophies, and when he competes, his girlfriend brandishes a poster that says "Ghetto Superstar."
Sochenda has trouble holding onto a sense of who he is and what he wants. He bleaches his hair and mousses it into spikes, gets fired from his after-school job for trying to cheat the time clock, and lets his grades slip even when he knows college application time is approaching. Yet there is an impish charm about him and an ability to bounce back.
Linda is determined to succeed to make up for the shame her family suffered when her sister was jailed for murdering her abusive boyfriend. She seems happy, sensible, hardworking, so it is all the more surprising when she nearly kills herself speeding in her car.
Sam, Sochenda, and Linda are the main characters of "Monkey Dance," a new documentary film by Julie Mallozzi '92, teaching assistant in Visual and Environmental Studies. The three Cambodian-American teenagers are members of the Angkor Dance Troupe based in Lowell. The film follows them through three years of their lives as they struggle to fulfill their dreams despite the corrosive and dangerous environment in which they live.
As the film shows, the Angkor Dance Troupe, co-founded by Linda's father Tim
---
'Monkey Dance' had its premiere Sept. 9 at the Boston Museum of Fine Arts. It will be shown again Friday (Oct. 8) at the Coolidge Corner Theatre as part of The New England Film Festival.
---
Chan Thou as a way of preserving traditional Cambodian dance, exerts a positive influence on the teens' lives. These traditions were nearly lost during the genocide that took place in Cambodia under the Khmer Rouge, when the majority of the country's dancers and dance teachers were killed. Thou, a remarkably selfless and energetic man, works the night shift in an electronics factory so he can have his days free to train the young dancers.
In the film, we see Linda and other young women practicing the intricate movements and arduous hand positions demanded of Cambodian dancers, and we see her patiently teaching the rudiments of these dance moves to young children. We see Sam determined to master the athletic monkey dance, a performance even more demanding than his work in the uneven parallel bars and floor exercises. And we see Sam integrating hip-hop movements into the traditional Cambodian repertoire and eventually branching out to join a Cambodian-American boy band called SeAsia.
Mallozzi sets these scenes against the background of the Khmer Rouge's atrocities of the 1970s, events that drove the families of these teens to seek refuge in the United States. Historical footage of these persecutions and scenes in which the students' parents speak in anguished tones of the suffering they have undergone help to place the teens' ambitions and difficulties in the far larger context of war and immigration. The pathos of the immigrant experience is brought home when Sochenda's mother exclaims, speaking in Khmer, "We have escaped to a place where we don't understand anything."
The film's treatment of the refugee experience is enlightening not only to its audience; Mallozzi found that making the film helped to educate its subjects as well.
"Linda told me that she didn't know much about the Khmer Rouge until we started filming. Her parents never talked to her about it because it was too painful. Now all her history papers in college are about Cambodia and the Khmer Rouge experience."
This is not the first time Mallozzi has used documentary film as a way of educating herself and others about the past. In her first film, "Once Removed," she explored her own Chinese and Italian heritage, traveling to China to record the life stories of her Asian relatives, many of whom had been persecuted during the Cultural Revolution.
Mallozzi shot "Monkey Dance" in digital video, a format favored by many documentary filmmakers because it is more economical than using traditional film stock. She estimates that she shot hundreds of hours of film, following her characters as they traveled from home to school to work to dance rehearsals and even to parties and clubs. Being there for crucial moments in their lives was all the harder because for much of the time she was living in Amsterdam with her husband, a citizen of the Netherlands, and traveling to Boston for two-week shooting sessions.
She missed some important events as a result. Linda's car accident, for example, happened while she was overseas and could only be conveyed months later through the victim's graphic description augmented by shots of her X-rays. But Mallozzi did manage to film the ecstatic moment when Sam received his college acceptance letters and found he had gotten into the University of Massachusetts at Amherst and Brown. She also accompanied Linda on a trip to Cambodia and was able to film her emotional meeting with relatives.
Finally, however, all this footage had to be edited down to about an hour so that it can be shown on television (Mallozzi expects the film to be featured on PBS channels some time in the future). With more footage shot, there is more to discard during the editing process.
"Documentary filmmakers always say that you know your film is done when you've thrown out your favorite scenes. It is a little disappointing, but it's more important that the final film be strong," she said.
Mallozzi feels that with this film she has taken a big step forward, both professionally and personally. In the last year of filming "Monkey Dance," Mallozzi's daughter Maya was born, coincidentally during the Chinese Year of the Monkey. And just as that event marks the transition to a new stage of her life, the release of "Monkey Dance" marks a new stage in her career as a filmmaker.
"With 'Once Removed,' I didn't really have a story in mind. It was more like a topic. But with this one I took a long time to figure out where the story arcs were. I think it's a unique film. I'm very proud of it."
"Monkey Dance," funded by the Corporation for Public Broadcasting, the Sundance Institute, the Massachusetts Foundation for the Humanities, and LEF Moving Image Fund, had its premiere Sept. 9 at the Boston Museum of Fine Arts. It will be shown again Friday (Oct. 8), at the Coolidge Corner Theatre. For more on the movie, visit http://www.monkey-dance.com.