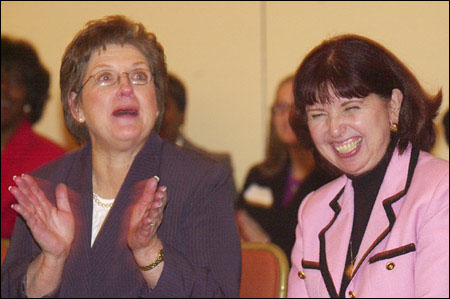 Boston Mayor Thomas M. Menino and President Lawrence H. Summers joined forces last Thursday (Oct. 7) to celebrate the partnership that has put Boston after-school efforts in the national arena and to recognize two exemplary Boston-area school principals who have made after-school education a vital and successful part of their schools.
Mary Russo, principal of Murphy Elementary School in Roxbury, and Catalina Montes, principal of Gardner Extended Services School in Allston, were recipients of the inaugural "Leadership and Learning Award," given by Boston's After School for All Partnership, a public-private partnership, in recognition of leadership and excellence in after-school programming.
In welcoming nearly 100 educators, business leaders, and city officials to the Spangler Center reception, Summers said one of the important innovations in American education today is the broadening of the school day and the school year, and he pointed particularly to the partnerships that are making after-school programs in Boston a success.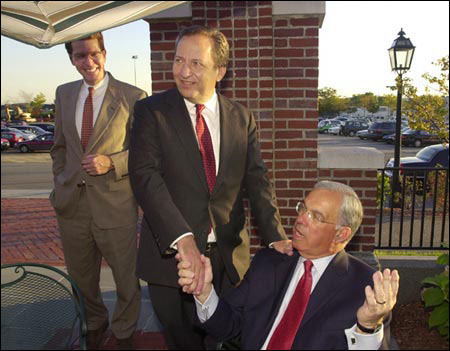 Summers also credited Menino for his leadership and dedication to Boston youth, calling him a friend and a partner to Harvard, and he praised the mayor's ability to bring people together and make the city a better place for all.
"We all have a stake in the success of our children," said Menino, noting the people and partnerships that help make after-school learning a success. "Let's keep working together to further this success."
Local leaders have put Boston in the vanguard nationally in after-school efforts, with 79 of 100 elementary schools now hosting programs. In 1998, Menino created Boston's 2:00-to-6:00 After-School Initiative to improve the quality of and access to after-school programs. A number of private organizations have further supported those efforts, including Harvard, leveraging both finances and human capital to support Boston after school through the Harvard After School Initiative. The number of Boston children participating in programs has more than doubled over the past five years.
"Harvard and other employers here have an enormous stake in what happens in our community, and after-school programs can make a difference," said Summers. "We are proud to have you here, proud especially to be part of honoring and recognizing two principals for their special leadership in these activities, and proud to be a part of this initiative."