"The orchestra of Boston's medical community" – the Longwood Symphony Orchestra – will present its first concert of the season at Jordan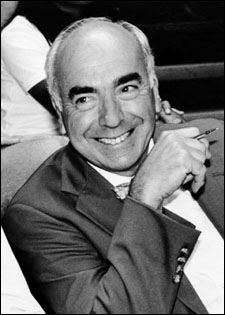 Hall on Oct. 30 at 8 p.m. The performance will pay tribute to Daniel D. Federman, senior dean for alumni relations and clinical teaching at Harvard Medical School (HMS).
A mentor, teacher, and friend to many orchestra members and others in the medical community, Federman has inspired generations of students to serve humanity through medicine. The concert will benefit the Daniel D. Federman Professorship in Medical Education at HMS, an endowed professorship created in recognition of Federman's work to support innovation in medical education.
Jeffrey Rink will serve as guest conductor of the Longwood Symphony Orchestra (LSO) in a program that will include Elgar's "Serenade for Strings," Liszt's "Les Preludes," and Bizet's "Symphony in C." Now in his 13th season as music director of the Chorus pro Musica, and eighth season with Concert Opera Boston, Rink is director of orchestral activities at the Longy School, and is celebrating his eighth season as music director of the Newton Symphony Orchestra.
Federman, the Carl W. Walter Distinguished Professor of Medicine, graduated summa cum laude from Harvard College and magna cum laude from HMS. Following research training at the National Institutes of Health and clinical training at Massachusetts General Hospital, Federman served simultaneously on the faculty of HMS and the staff of Massachusetts General Hospital from 1960 to 1972. From 1972 to 1977, he was chairman of the Department of Medicine at Stanford Medical School, and then returned to HMS to serve as dean for students and alumni and professor of medicine. Federman was appointed dean for medical education in 1989, and was named the Carl W. Walter Distinguished Professor of Medicine and Medical Education in 1992.
The collaboration between the LSO and HMS is fitting, since the two institutions are historically intertwined. Several HMS students founded LSO in 1982, and through the years many of its members have been HMS students or alumni. LSO musicians have served, and continue to serve, as physicians, researchers, and staff at HMS-affiliated hospitals. Under the direction of newly appointed music director and conductor Jonathan McPhee, the orchestra performs four annual concerts at Jordan Hall that showcase talented established and emerging solo artists, and often introduce new works to Boston audiences. The orchestra is not only dedicated to performing high-quality classical music, but also to supporting the medically underserved. Through its Healing Art of Music program, each concert benefits a health-related charity.
Jordan Hall is located at 30 Gainsborough St. in Boston, a block from Symphony Hall, and is wheelchair accessible. For a four-concert season subscription, or single tickets ($25 for adults and $15 for students and seniors), call the Longwood Symphony at (508) 877-3928. Tickets may also be purchased through the LSO Web site at http://www.longwoodsymphony.org.