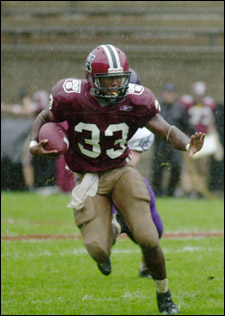 An undersized Harvard football team effectively dismantled 19th-ranked Northeastern, 41-14, this past Saturday (Oct. 16) to keep its unbeaten season intact. Now 5-0, the host Crimson (2-0 Ivy) held the husky Huskies (3-3) to just two first-half touchdowns – 24 points below their per-game season average – while converting five turnovers into 13 Harvard points.
In a game marred by poor ball protection (eight turnovers in all), running back Clifton Dawson '07 delivered a notable, though not atypical, performance for the Crimson. The sophomore rushed for 111 yards and two TDs to become just the second running back to punish Northeastern this season with a 100-plus yard effort. Named offensive player of the week by the Ivy League following Saturday's blowout, Dawson is two rushing touchdowns shy of surpassing Harvard's single-season record of 13.
Tied at 14 late in the second quarter, quarterback Ryan Fitzpatrick '05 (two TD passes and two interceptions on the day) found Brian Edwards '05 for a 13-yard TD reception to give Harvard – following the point after – a 21-14 advantage. And though the Edwards TD provided Harvard with a nice cushion, it was the subsequent pair of near back-to-back turnovers that set the tone for the rest of the game.
On Harvard's next offensive set, Husky strong safety EJ Jackson picked off a Fitzpatrick pass with 1:08 remaining in the half. Yet Northeastern failed to capitalize on the interception, fumbling the prize on the second play of its drive. Harvard, meanwhile, jumped on the opportunity, and, with 24 seconds before halftime, forged a four-play scoring drive capped by freshman Matt Schindel's 38-yard field goal.
And like that, the onslaught was underway.
Early in the third quarter, Harvard exchanged a quick Northeastern fumble and interception for two touchdowns, as Harvard buried the Huskies with a 17-point quarter.
The Crimson visit Princeton (4-1, 2-0 Ivy) on Saturday (Oct. 23) in an early battle for first place in the Ivy League. Along with Penn (4-1, 2-0 Ivy), Harvard and the Tigers are currently tied for the top spot. Visit http://www.gocrimson.com for updates.