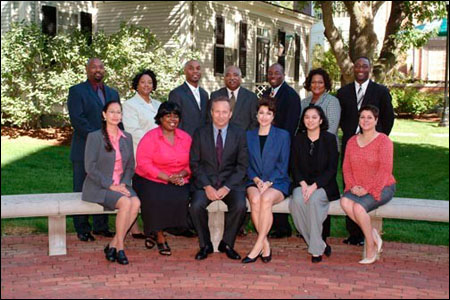 Eight new fellows have been selected for the 2004-05 Administrative Fellowship Program. Of the eight fellows, five are visiting fellows and three are resident fellows. Visiting fellows are talented professionals drawn from business, education, and the professions outside the University, while resident fellows are professionals currently working at Harvard who are identified by their department and selected by the fellowship program review committee to have the leadership potential to advance to higher administrative positions.
The Administrative Fellowship Program, coordinated by the Office of the Assistant to the President, began its year with a one-day orientation held at the Harvard Faculty Club in September. President Lawrence H. Summers was present to welcome the sponsors and the eight new fellows and to discuss Harvard's ongoing pursuit of excellence, commitment to diversity, and support of the program.
The University-wide program, now entering its 16th year, provides an opportunity to bring outstanding professionals, who are committed to addressing the under-representation of ethnic minority groups within the University's workforce, into the Harvard community for a one-year work experience in academic administration.
The program is supplemented with seminars and case studies on academic administration presented by deans, vice presidents, major office directors, and faculty at the University. The goals of the program include enhancing the fellows' administrative and professional skills and clarifying their career objectives.
The 2004-05 Visiting Administrative Fellows are as follows:
Sharri Ruth Clark, Ph.D. and A.M. in anthropology (Harvard), B.S. in computer science and sociology (Southeastern Oklahoma State University). Clark worked as a computer specialist for the Harappa Archaeological Research Project in Pakistan in conjunction with her graduate study at Harvard, developing a centralized computer database and real-time registration system for the project. Prior to her graduate study, she was a computer systems specialist at Computer Sciences Corp., General Dynamics, and Texas Instruments. Clark has been the recipient of numerous awards related to her teaching, training, and academic work, which have included educational and training programs for grade K-12 students and teachers, archaeologists, and museum professionals. Her fellowship assignment is in the Peabody Museum.
Michael Henry, B.S. in management science (Bridgewater State College). Henry has more than 10 years of experience in the financial sector. He most recently worked as a project manager of Brokerage Technology Systems Company at Fidelity Investments, where he coordinated and managed the development and implementation of an online capacity form on the Intranet for internal clients, and developed and managed a comprehensive database to monitor more than 50 B2B conversions. Formerly, he was project manager/assistant manager of State Street. His fellowship assignment is in the Office of External Relations, Harvard Business School (HBS).
Michael Mason, Ph.D. candidate in religion and higher education administration, and M.Ed. in educational administration (Boston College), B.A. in English literature (Loyola College). Mason worked as a graduate manager in the Murray Graduate Center at Boston College where he coordinated social, academic, and spiritual programming for a graduate community of more than 5,000 students. Prior to this appointment, he held numerous administrative positions, including residence hall director in residential life and clinical faculty and graduate supervisor in the Office of Professional Practicum Experiences at Boston College. His fellowship assignment is in the Office of Academic Services, Graduate School of Education (GSE).
Jacqueline Old Coyote, Ed.M. (Harvard) and B.A. in English (Montana State University). Having enjoyed a career as an international fashion model and actress, Old Coyote returned to her educational path in 2000 with renewed determination and awareness of the need to incorporate creativity and cultural components into formal education. She has taught drama at her tribal college in Montana (Little Big Horn College), and has continued her drama career as both actress and writer. She dedicated her summer to College Horizons as an essay specialist and interned at the Peabody Museum of Archaeology and Ethnology. Her fellowship assignment is in the Harvard University Native American Program, Kennedy School of Government (KSG).
Monica Weaver, C.A.E.S. in applied developmental and educational psychology (Boston College), M.A. in counselor education specializing in community and agency practice (Kean University), B.A. in journalism and public relations (Rider University). Weaver recently worked as the coordinator of the Center for Alcohol and Other Drug Education at Bentley College. In this position she provided substance abuse therapy and education, and referral management, and designed co-curricular programming for students, faculty, and staff. In addition, Weaver is an adjunct assistant professor in the Department of Behavioral and Political Sciences at Bentley College. Her fellowship assignment is in the Office of Educational Development, Harvard Medical School (HMS).
The 2004-05 Harvard Resident Administrative Fellows are as follows:
Jabbar Bennett, Ph.D. in biomedical sciences (Meharry Medical College, Nashville), B.S. in biology (North Carolina Agricultural and Technical State University). Bennett is research and science specialist in the Office for Diversity and Community Partnership at HMS, and adjunct professor in the School of Education at Lesley University in Cambridge, Mass., and at Roxbury Community College in Boston. He received his B.S. in biology and minor in Spanish from North Carolina A&T State University and his Ph.D. in biomedical sciences from Meharry Medical College, where his dissertation research focused on the ablation of gene expression in Leishmania. Bennett has been teaching and promoting biomedical science and health professions education efforts for more than 10 years. He hopes to enhance his managerial and leadership skills, and better understand higher education policy issues.
Valeria Harris, M.A. in education (Cambridge College). Harris' current position as an assistant director of financial aid at GSE involves her in reviewing financial aid applications as well as overseeing the tracking of all related student file paperwork, general office management, and operations. Prior to this, Harris worked as a financial aid officer at KSG where she managed a portfolio for 300 incoming and continuing students, managed the Presidential Internship Program, and also was the co-chair for the Loan Repayment Assistance Program.
Angela Johnson, B.A. in psychology and English literature (Wellesley College). Johnson is currently associate director in the Harvard Law School Fund. Prior to this she worked as assistant director in the HBS Fund office and as a project manager at KSG's Hauser Center for Nonprofit Organizations. Johnson has held several positions in the philanthropic and nonprofit sector of Greater Boston, including program officer of nonprofit services in Associated Grantmakers of Massachusetts Inc. Over the past 10 years, she has successfully helped raise millions of dollars from individual, public, and private sector donors for Harvard, and several arts and education organizations. She is currently serving on the board of the Association of Fundraising Professionals (AFP) and the planning committee for Sisters In Development.
Of the many former visiting fellows who remained at Harvard after their fellowship assignment, the University currently permanently employs 15. Others decided to pursue opportunities outside of Harvard, typically at colleges and universities or other institutions in the nonprofit sector.
The Administrative Fellowship Program is a collaborative effort between host departments and the Office of the Assistant to the President, with fellowship stipends being underwritten in part by the President's Office. The program is coordinated by the Office of the Assistant to the President, where Teresa Malonzo serves as program coordinator and James Hoyte is the associate vice president/assistant to the president.