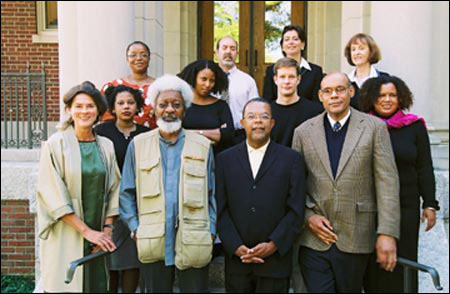 Henry Louis Gates Jr., director of Harvard's W.E.B. Du Bois Institute and chair of the Department of African and African American Studies, has announced the appointment of 12 new fellows for the 2004-05 academic year.
"We are especially delighted with this year's selection of Du Bois Institute Fellows. From English, history, and economics to art history, theater, and education, the interdisciplinary breadth and depth of their work reflects the cultural and intellectual complexity of our field," Gates said.
"We look forward to following the development of their research, and, just as important, we look forward to the contributions that this distinguished group of scholars will undoubtedly make to Harvard's intellectual life," he continued.
Since its creation in 1975, the Du Bois Institute has annually appointed scholars who conduct individual research for a period of up to one academic year in a variety of fields within African and African American Studies.
The institute accepts established and emerging scholars from both the humanities and social sciences. Fellows conduct their research by using resources from Harvard's extensive library system as well as from the institute's research projects, including the African Art Database, the Image of the Black in Western Art Research and Photo Archive, the African AIDS Initiative International, and the African American National Biography Project.
Du Bois Fellows also participate in the varied activities of the institute including public conferences, lectures, readings, and forums.
The 2004 – 05 Du Bois Fellows and their research projects
David Schalkwyk, professor of English, University of Cape Town, Mandela Fellow, "Service and Love in Shakespeare's Poems and Plays."
Wole Soyinka, playwright, poet, novelist, and essayist, winner of the Nobel Prize in literature in 1986, first Alphonse Fletcher Fellow.
Ermien van Pletzen, senior lecturer, University of Cape Town, Mandela Fellow, "Reading, Diversity, and the Curriculum: MBCHB Reading Curriculum at the University of Cape Town."
The following Du Bois Fellows have all been named Sheila Biddle Ford Foundation Fellows
Dionne Bennett, visiting assistant professor, Loyola Marymount University, "The Emotional Politics of Difference: Race (re)Cognition and Resistance in African American Life History Narratives."
Ira Berlin, distinguished university professor, University of Maryland, "Passages: Movement and Place in African American Life from the mid-17th to the mid-20th Century."
Vincent A. Carretta, professor of English, University of Maryland, "Olaudah Equiano, the African: A Self-Made Man."
Prudence Cumberbatch, assistant professor, Brooklyn College, City University of New York, "Working for the Race: The Transformation of the Civil Rights Struggle in Baltimore, 1929-1945."
Derek Hyra, doctoral candidate, University of Chicago, "The New World A-Coming: The Economic Transformation of Harlem and Bronzeville."
Anthonia Kalu, professor of black studies, University of Northern Colorado, "Language, Woman, and Story: African Literature and Social Transformation."
Marisa Parham, assistant professor, Amherst College, "Things Pungent and Composite: Memory, Space, and Haunting in Modern African American Literature and Culture."
Lorraine Roses, professor of Latin American Studies, Wellesley College, "Black Boston's Cultural Flowering, 1920-1940."
Jeffrey Stewart, professor of history and art history, George Mason University, "Beauty Instead of Ashes, the Life of Alain Locke, Patron Saint of the Harlem Renaissance."