Inspired by the great impact wrestling has made on his family, David G. Bunning '88 has endowed Harvard's wrestling coach position. The gift was announced at the Friends of Harvard Wrestling kickoff dinner, held on Saturday (Oct. 23).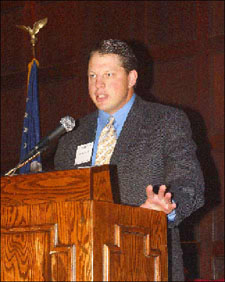 Bunning, who followed in his father's footsteps as a collegiate wrestler, believes that wrestling offers one of the most rigorous, demanding, and fulfilling student athletic experiences available.
"A dedicated Harvard wrestler who remains committed in the classroom will prepare successfully to capitalize on the challenges encountered in his future," Bunning said. "I hope this gift will influence the lives of many generations of Harvard wrestlers."
Jay Weiss, who has coached the Crimson for the past 10 years, assumes the new title of David G. Bunning Head Coach for Harvard Wrestling.
"David Bunning's contribution to wrestling at Harvard will go a long way toward advancing the sport," said Nichols Family Director of Athletics Bob Scalise. "But it also provides our University with the ability to strengthen our women's athletic programs as well, demonstrating to the country that one [collegiate sport] need not thrive at the expense of the other." (In recent years, many colleges and universities have cut funding to wrestling to support other athletic programs.)
"Coaching at Harvard is a humbling experience. We attract individuals who have a passion to succeed both in and out of the athletic arena," said Weiss. "David Bunning's gift highlights the importance of wrestling as a collegiate sport, and shows that he, too, believes in the potential of our students. I am truly honored to be the first to be named the David G. Bunning Wrestling Coach here at Harvard."
Organized wrestling at Harvard traces its origin to the late 1700s, when sophomore wrestlers issued an annual challenge to members of the freshman class. Since then, Harvard has seen 12 wrestlers achieve All-America status a total of 16 times and has produced two NCAA individual champions: John Harkness '38 and Jesse Jantzen '04, both of whom attended the kickoff dinner.
"David Bunning's commitment comes in a historic year for wrestling at Harvard," Dean of the Faculty of Arts and Sciences William C. Kirby said in reference to Jantzen's achievement. "Athletics is an important part of the undergraduate experience. This endowment will help to foster this aspect of the experience at Harvard – and all that it also offers in building good character – for future generations of students."
Wrestling becomes the sixth coaching position to be endowed in the Department of Athletics. Harvard's other endowed coaching positions are gifts of Joseph J. O'Donnell '67, M.B.A. '71 for baseball; Thomas F. Stephenson '64, M.B.A. '66 for football; Robert G. Stone Jr. '45 and family for men's crew; Virginia B. and James O. Welch Jr. '52 for men's soccer; and Robert D. Ziff '88 for men's ice hockey. The Harvard director of athletics position was endowed by John D. Nichols Jr. '53, M.B.A. '55.