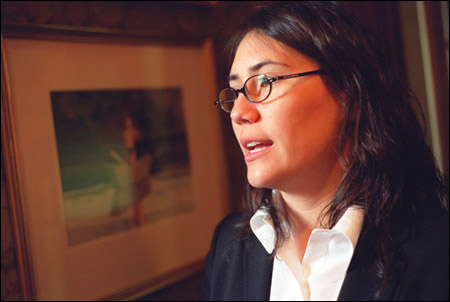 Leaders of American Indian nations from across the country came to Harvard University last week to share their best ideas of how to spur economic development, guard resources, and promote the well-being of their people.
Approximately 130 tribal leaders, program managers, business people, and others interested in American Indian government attended a three-day symposium Thursday through Saturday (Sept. 9-11) at the Harvard Faculty Club.
The symposium was sponsored by the John F. Kennedy School of Government's Honoring Contributions in the Governance of American Indian Nations program, also known as "Honoring Nations."
Honoring Nations is administered by the Harvard Project on American Indian Economic Development. It aims to promote good governance among American Indian tribes by presenting awards to outstanding governance programs in a wide variety of areas.
Over the past two years, for example, Honoring Nations awards went to the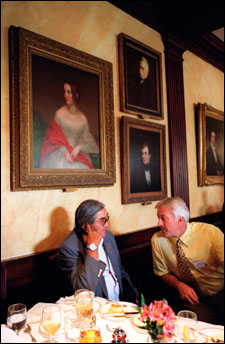 Chickasaw Nation for an innovative home loan program that is open to Chickasaw citizens anywhere in the United States and to American Indians of any tribe living on Chickasaw land. Another award was given to the Lummi Indian Nation in Bellingham, Wash. The Lummi received an Honoring Nations award for establishing tribal water and sewer districts after a legal battle with non-Lummi residents of the reservation. The district now provides clean drinking water and sewage treatment, and the process has helped the tribe exercise sovereignty over tribal lands.
The Honoring Nations awards are given in two consecutive years followed, in the third year, by a symposium that brings the previous two years' winners together for presentations, discussions, and sharing of the best ideas. Last week's symposium presented the winning programs from 2002 and 2003.
The group was welcomed to Harvard by Kennedy School Dean David Ellwood, who spoke at lunch on Friday. Ellwood said the gathering is among the largest of tribal leaders in Harvard's history. The event, Ellwood said, fits perfectly with the Kennedy School's mission of improving leadership and governance.
In addition to the symposium's participants learning from each other, Ellwood said the symposium gives Harvard faculty and staff a chance to learn from tribal leaders.
"The real exciting thing for us is the chance to learn from you," Ellwood said.
Amy Besaw, Honoring Nations' associate director, said the symposium featured presentations by tribal representatives, award winners, and Harvard faculty, who provided context for the presentations of specific programs.
Besaw said award winners can still learn from other tribes because, though they've excelled in one area, they may still have challenges in other areas of tribal governance.
"This is the best of the best of Indian country," Besaw said.