Massachusetts Secretary of Administration and Finance Eric Kriss cast down the gauntlet to public labor unions last week (Sept. 22), blaming a monopolistic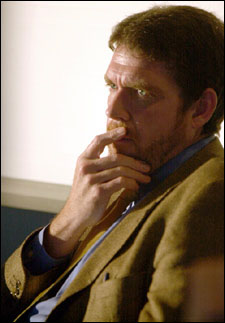 union structure for government's financial woes and calling for a new debate on the unions' role.
Kriss, the Romney administration's top budget official, said rules dictating that all state employees join and pay dues to public employee unions create a cycle that enhances unions' influence on government at a time when private-sector unions nationally are losing clout.
He described a cycle where workers are forced to pay union dues, union leaders use those dues to support pro-union politicians, those politicians are elected and then become the ones with whom unions negotiate new contracts.
"I think that the public sector monopoly has created close to a total inability to contain costs," Kriss said. "We have created a government-granted labor monopoly at the heart of our government. … I think we need rigorous debate about whether this is good or bad."
Kriss spoke at the John F. Kennedy School of Government's Malkin Penthouse before a small but interested audience. The event, "The State of the Union? Defining the Proper Role for Public Sector Unions," was sponsored by the Rappaport Institute for Greater Boston.
Kriss' request for a debate was granted by other members of the event's panel.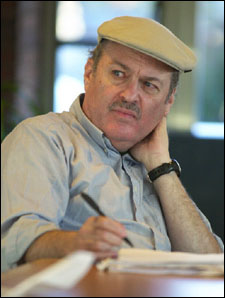 Kriss was joined by Economics Professor Richard B. Freeman, co-faculty director of the Harvard University Trade Union Program, and Jack Donahue, a Kennedy School lecturer and director of the Weil Program in Collaborative Governance. The Rappaport Institute's co-faculty director, Economics Professor Edward Glaeser, moderated the event.
Freeman said the issue of monopoly was an important one, but said that one could argue just as persuasively that it was government that has the monopoly and, since government has banned public unions from striking, the rules and protections granted public unions are important protections against the government's monopoly power.
"Unions play an important role in ensuring the state is paying reasonable wages," Freeman said.
Kriss called for debate on the question whether public sector unions ought to be mandatory, on whether elected officials who negotiate with unions ought to be able to accept union campaign contributions, on how best to empower workers who do not have the right to strike, and on the definition of a worker and how far into management ranks union membership should penetrate.
"It [the current system] is not the way to manage for the future," Kriss said.
Freeman countered that mandatory dues are important so that employees don't become "free riders" who benefit from union-negotiated improvements in wages and benefits without contributing to the effort and said that midlevel managers also need protection from capricious bosses.
With the decline in private sector union strength coinciding with an increasing polarization in the nation between the haves and have-nots, Donahue said government employment – which pays a little more than the private sector in upper-level jobs, but a lot more in lower-level jobs – acts as a "safe harbor," protecting the middle-class lifestyles of people who may be making less in the private sector.
"As a consequence, unions will fight would-be reformers, like the Eric Krisses of the world, tooth and nail and I don't blame them," Donahue said.
When asked what changes might make the system better, Donahue suggested allowing
the governor to make more political appointees, which would increase the level of control the governor's office has over its administrative departments.
"The frustration you feel is because you don't control enough people," Donahue said.
Kriss warned that a failure to act may be the death knell for some cities and towns, squeezed between their inability to raise local taxes due to proposition 2 restrictions and rising labor costs.
"We're facing a coming wave of municipal bankruptcies," Kriss said.
Despite the dire predictions, Donahue said he didn't believe there would be wholesale changes anytime soon, but added that he thought ideally, public unions would be weaker and private unions would be stronger.
"If you're looking for things to be outraged about, there's a long list before you get to a bunch of middle-class people trying to hold onto the middle-class lifestyle," Donahue said.