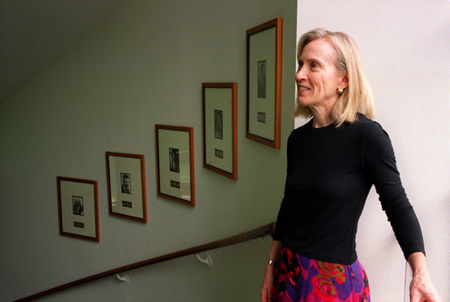 Fewer college-educated women are keeping their maiden names at the altar, according to a Harvard study.
The research, by Henry Lee Professor of Economics Claudia Goldin and by former Harvard undergraduate Maria Shim '01, highlights a trend that is a bit perplexing to the study's authors because the societal trends that in previous decades led to women keeping their names – delayed marriage, increased education levels, greater numbers and achievement in the workforce – remain.
"There's been no change in the underlying factors, therefore, we have a puzzle," Goldin said.
The research, drawn from an examination of The New York Times marriage announcements, Massachusetts birth records, and Harvard alumni records, grew from Shim's senior thesis, which she completed in 2001. The article was published in a recent issue of the Journal of Economic Perspectives.
The article highlights the proportion of women declining to take their husband's name in marriage over the past three decades. It tracks growth through a sharp rise in the 1970s and 1980s before a decline in the 1990s to just below 20 percent in 2000.
Goldin believes the gains made by women in the 1970s and 1980s may have led to the recent decline. Women getting married in the 1990s grew up in an America where they faced dramatically different choices from their mothers and grandmothers.
For full Gazette story, see http://www.news.harvard.edu/gazette/2004/08.26/11-namechange.html.