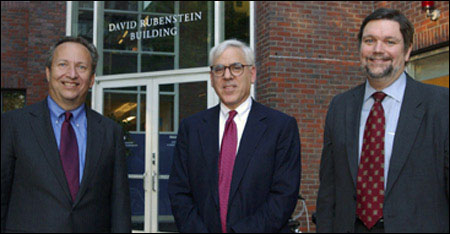 Business and political leader David M. Rubenstein is giving $10 million to establish a fund for excellence at the Kennedy School of Government. A key component of the gift is $1 million earmarked for a loan forgiveness program to encourage talented students to pursue careers in public service.
The gift provides for a wide range of other initiatives, including the recruitment and retention of faculty, new teaching initiatives, and major conferences for leaders from public and professional sectors.
Harvard President Lawrence H. Summers said, "We have increasingly seen talented people moving away from careers in the public sector, opting more often for fields that promise greater financial rewards. This gift will make a difference not just to students at Harvard but to the shape of our society for generations to come. I am very grateful to David Rubenstein for his generosity and his dedication to this important initiative."
A co-founder and managing director of the Carlyle Group, one of the world's largest equity firms, Rubenstein has had a distinguished career in public affairs, law, and business. He served in the Carter administration as deputy assistant to the president for Domestic Policy. He went on to become a partner in the Washington, D.C., law firm of Shaw, Pittman, Potts & Trowbridge.