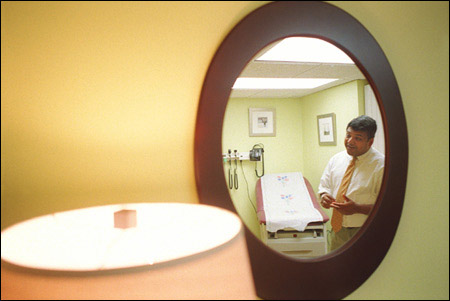 There's an industry in the United States where costs are skyrocketing and quality is slipping dangerously. Despite astonishing technological advances, customers are generally dissatisfied and the workforce is grumbling louder than ever. The product is unavailable to a growing segment of Americans, and those who can access it must often wait up to six months for it.
The industry, of course, is health care, and by many accounts, it's chronically ill. To address its many woes, from racial disparities to underinsurance to medical errors, a three-year-old interfaculty initiative at Harvard has assembled intellectual resources from across the University's disciplines. Primary care, specifically, is in the crosshairs of some of the researchers, who have borrowed innovative techniques from other industries to address what they say is one area of health care that touches almost everyone.
"In the service setting of health care, we should be no less innovative than in the commercial sector," says Harvard Business School Assistant Professor Richard Bohmer, a faculty affiliate of the Harvard Interfaculty Program for Health Systems Improvement (PHSI).
Rushika Fernandopulle, a physician who was the first PHSI executive director, is leading the initiative's primary care project, which he describes as sweeping and radical. Others have tried incremental changes – a schedule tweak here, an e-mail account there – but they've failed to revive the industry. "What we need to do is fundamentally change everything," he says.
Skunkworks
To explore how other industries dramatically broke away from established models
---
On the Web:
Program for Health Systems Improvement: www.phsi.harvard.edu
Renaissance Health: www.renhealth.net
---
to innovate sweeping change, the PHSI team crossed the river to query their Harvard Business School colleagues, some of whom are part of the initiative. "They said, you want to think about the skunkworks," says Fernandopulle.
Named after Li'l Abner's moonshine still, skunkworks was first used during World War II by aircraft manufacturer Lockheed to develop a jet fighter. Aimed at fostering the kind of out-of-the-box thinking that often leads to breakthroughs, skunkworks assembles a group of young, bright, and often brazen people in the industry and instructs them to brainstorm solutions with the freedom to break rules.
The primary care project gathered a team from Harvard and around the country – faculty members, doctors, nurses, patients, reporters, health plan administrators – who fit the skunkworks profile. They avoided, says Fernandopulle, "the gray-haired guys who are running departments. You couldn't be head of anything."
The team's initial research took it around the country surveying innovative primary care practices. They followed up their information gathering with a skunkworks-style brainstorming session in Cambridge. Their charge, says Fernandopulle, was no less than to rethink primary care from the ground up. "How would we design the system if we were starting from scratch and we had only one constraint: It met the needs of patients?" he says.
In a discussion about treating acute illnesses, for instance, one participant wondered why she had to go to the doctor's office when she's very sick. "Why can't the doctor come to me?"
By ignoring the obvious downside – the inefficiency of travel time – the team backed into a solution. They had already constructed a model of care in which many office visits would be replaced by telephone and e-mail consultations with physicians. With cell phones, wireless technology, and a relatively inexpensive hired driver, doctors' travel time could become productive, and very sick or bedridden patients could avoid a burdensome, perhaps dangerous trip into the clinic.
New roles for doctor, patient, technology
The home visit example illustrates several of the major new ways of thinking the project developed. By harnessing technology and rethinking doctors' visits, physicians' time can shift so they're available to give patients the care they need, whether it's by an office visit, a phone call or e-mail dialogue, or a referral to the latest medical articles about a patient's condition.
Patients, too, should take a much more active role in their care, the team concluded. "The biggest untapped resource in health care is the patient and their family," PHSI steering committee member and clinical professor of pediatrics and health-care policy at Harvard Medical School Donald Berwick told Fernandopulle. "We systematically exclude them from playing a role." The skunkworks group discussed giving patients around-the-clock online access to medical records and promoting peer learning with other patients. "A lot of what people need to learn when they have an illness is not what I, the doctor, can teach you, but what other people who have the illness can teach you," says Fernandopulle.
Technology is the third partner in this new model of primary care. "Health care is way behind every other industry in terms of using information technology," says Fernandopulle. "The guy at Hertz knows more about you when you walk up to the counter than your doctor does." From patient-specific Web sites to letting patients schedule their own appointments and e-mail their doctors, the team came up with many ways that technology can smooth this new model of health-care delivery.
A working laboratory
Continuing with the skunkworks model, Fernandopulle has led the creation of a prototype primary care facility where the group's research can be tested in practice. With two other physicians, he opened Renaissance Health, affiliated with Massachusetts General Hospital, in Arlington in July. While the practice is administratively separate from PHSI and Harvard, the group sees it as its laboratory.
"The practice is a very practical outgrowth of a very academic collaboration," says HBS's Bohmer. "We do that on the biotech side all the time, but we do that less often on the service side."
In addition to implementing many of the researchers' breakthrough notions of primary health care, Renaissance Health has built ongoing innovation into its business plan, ensuring the clinicians' case loads are light enough that they have time to constantly evaluate what's working and what's not.
"We have absolutely no illusion that we know the right answer," says Fernandopulle. "The key is to build the system where you'll continually innovate."