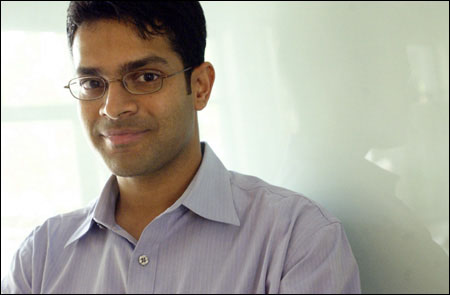 A newly appointed Harvard Medical School assistant professor who specializes in the study of cellular mitochondria has been named one of this year's 23 recipients of the MacArthur Foundation's "genius" grants: $500,000 over five years, no strings attached.
Vamsi Mootha received the award, officially called a MacArthur Fellowship, for his ability to use the tools of genomics and proteomics to advance the understanding of disease and of basic biological processes.
A 1998 Harvard Medical School graduate, Mootha takes over as assistant professor of systems biology and assistant professor of medicine at Massachusetts General Hospital Oct. 1. He is currently completing an instructorship in medicine at Brigham and Women's Hospital and a postdoctoral fellowship at the Broad Institute of Harvard and MIT.
The call last week from the John D. and Catherine T. MacArthur Foundation informing him of the award was completely unexpected, Mootha said, adding that he's still recovering from the surprise.
"I'm absolutely in shock still," Mootha said.
Mootha, 33, joins 47 current and former Harvard faculty members who have won MacArthur Fellowships, including 41 who won while at Harvard and 30 who are currently on the faculty.
Mootha said his research focuses on mitochondria, which are small bodies inside
---
'I want to do something deliberate with the money, maybe research some riskier areas.'
– Vamsi Mootha, MacArthur Fellow
---
cells that act as the cell's powerhouse. He studies the function and dysfunction of mitochondria in order to gain insights into metabolic diseases. He recently was part of a team that identified the gene responsible for Leigh Syndrome French Canadian Variant, a rare, fatal disease. Researchers are building on that finding to develop a Leigh Syndrome screening test.
More recently, Mootha's work has focused on type 2, or adult-onset, diabetes. His work over the past two years has indicated that an inherited or acquired dysfunction of the mitochondria may predispose an individual toward developing type 2 diabetes. That work has gained particular significance as the incidence of type 2 diabetes has risen in recent years.
Though he hasn't made any final decisions on how to use the fellowship award, Mootha said he will likely finance areas of research where it might be difficult to attract outside funding. His initial thoughts are to investigate some rare mitochondrial disorders, about which so little is known that diagnosing and treating them are a challenge for doctors.
"I want to do something deliberate with the money, maybe research some riskier areas," Mootha said. "Some of my crazier ideas will be funded with this money."
The MacArthur Fellowships, awarded since 1981, are intended to highlight the importance of creative individuals in society. They are awarded to promising, original people in many fields, from farming to science to music. Candidates are nominated in a confidential process, without applications or interviews.
"The call can be life-changing, coming as it does out of the blue and offering highly creative women and men the gift of time and the unfettered opportunity to explore, create, and contribute," said MacArthur Foundation President Jonathan F. Fanton.