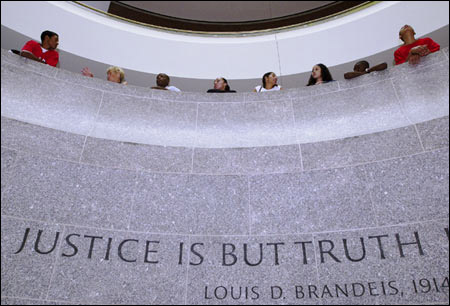 It was quiet in Boylston Hall's Ticknor Lounge one early August afternoon. But the silence masked the concentration of 30 academically talented, financially disadvantaged Boston and Cambridge youths as they imagined their futures – and plotted their paths to get there.
After four weeks packed with field trips, science experiments, classes, and activities, students were putting the summer behind them and looking ahead to the school year, setting personal and academic goals to work on before their return to Harvard next summer.
The students are part of an innovative program, The Crimson Summer Academy, which provides an intensive summer academic experience, yearlong mentoring, and other yearlong programming designed to broaden the students' horizons and advance them on the road to college.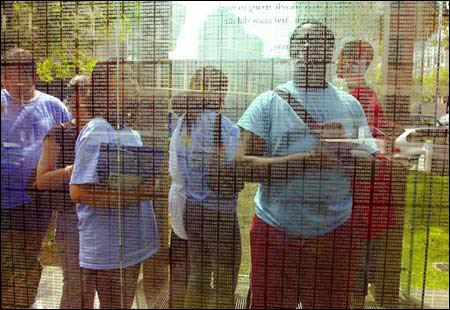 The students, between their freshman and sophomore years at both public and parochial high schools, participated in the inaugural four-week academy during July and early August and will return next summer for a similarly intensive six-week academic program, mentoring, and guidance. The summer after that, the students, known as Crimson Scholars, will attend the eight-week Harvard Summer School.
"I thought this would be a good opportunity for me, a great program to expand my vision, not just for college but for life," said Carla Fonseca, a sophomore from Brighton. "And I was right."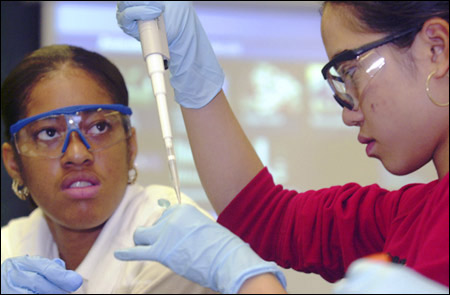 Program Director Maxine Rodburg, who is also director of the Faculty of Arts and Sciences' Writing Center, said The Crimson Summer Academy aims to both challenge the scholars with an interdisciplinary summer program, organized around the theme "The Student as Citizen," and to create a supportive community they can rely on year-round.
The program provides material as well as academic and moral support. Each student receives a laptop computer, and a stipend to replace earnings lost from summer jobs, and to cover transportation, meals, and medical insurance during their weeks at the academy. Those who successfully complete the three-year program will also receive a $3,000 scholarship to use at the college of their choice. A second class of Crimson Summer Academy Scholars will be admitted next summer.
"The Crimson Scholars are amazing. They are intellectually curious, highly responsible, and deeply committed to building a community of learners," Rodburg said.
The program received strong support from many quarters, including Harvard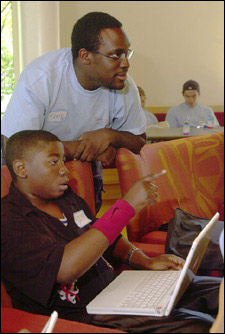 President Lawrence H. Summers, who taught a class on public speaking and who has made improving college access to low-income students a priority during his tenure as president. At an Aug. 5 celebration showcasing students' work, Summers commended the students for their commitment to learning.
"With your drive to succeed and your effort to learn, you have more than exceeded expectations," said Summers. "I have no doubt that you will continue to challenge yourselves in the coming year and look forward to seeing you next summer."
Harvard undergraduates who serve as mentors are a key element in making the academy a year-round experience. Mentors accompanied the youth through the academy, served as teaching assistants, and taught "minicourses" in subjects as diverse as dancing, poetry, and sports. Mentors will touch base with scholars weekly and visit them monthly. The entire academy community will reunite monthly, at Harvard or on special field trips.
Ben Purkert, a Harvard sophomore and Crimson Summer Academy mentor, said he got involved because he didn't feel that he understood enough about students lives outside of campus.
"I didn't feel I knew Boston, kids in Boston, or neighborhoods in Boston," Purkert said.
Humberto Duarte, also a Harvard sophomore and academy mentor, said he was drawn to the program because many of the youth are recent immigrants, as he was. Duarte moved to the United States from Mexico when he was 4.
"I see a lot of parallels with my own life, being an immigrant and a non-native speaker [of English]," Duarte said.
Crimson Scholars take part in a varied curriculum. Classes emphasize writing and speaking, science and technology, quantitative reasoning, college and career planning, and digital photography. Guest speakers from the Harvard faculty, daily community meetings, and afternoon mentoring sessions are also featured.
One excursion showed students around Harvard's Psychology Department. After a short talk by Professor Dan Gilbert, scholars explored labs, experienced psychological research, and learned about different psychological disciplines.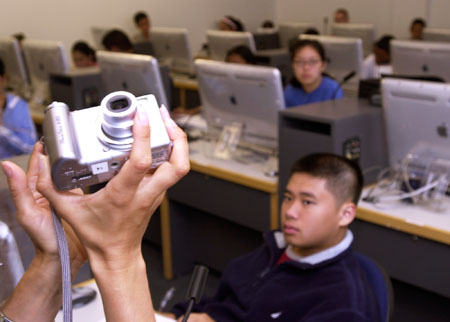 Kristina Olson, a graduate student and head of the department's Equal Access Committee, said hosting Crimson Scholars exposes youth to different aspects of psychology.
"When I was in high school, if you asked me what a psychologist was, I thought 'therapist,'" Olson said. "This will get kids thinking about research as a career."
The scholars themselves said the program has helped focus their thoughts about college.
Tenzin Dotsang, a student at Cambridge Rindge & Latin School whose family emigrated from India, said she is more determined than ever to attend college. She had initially thought she'd go if she got a scholarship, but now believes college is a stop she must make.
"Now I feel like I have to do it," Dotsang said. "I want to go to college and become something, have a stable career."
Dotsang said she's interested in pursuing a career in medicine, but said she also wants to work in Tibet and help young Tibetans.
Each week was punctuated with field trips. An early trip to the Thompson Island Outward Bound Center had students talking afterward about climbing the large wooden tower there. Other trips visited the Democratic National Convention in Boston, the Harvard Museum of Natural History, the Harvard Club of Boston, the Moakley Federal Courthouse, and a naturalization ceremony in Faneuil Hall – which resonated with some students whose families had immigrated to the United States.
"It was great to see something so beautiful," said Dotsang, who remembers arriving in Boston with her sister, neither of them speaking much English. "It was like a seed: Plant it and grow a flower. But with that seed [naturalized citizenship] instead of growing a flower, they're growing their lives out of it."