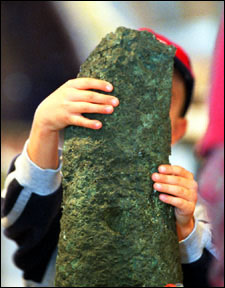 A chance to gaze eye-to-eye with a chuckwalla lizard, a couple of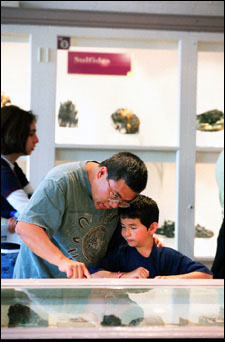 stolen minutes drawing centuries-old ritual bells, discovering the contours of an ancient stone – these are just a few moments captured by neighbors and visitors at the Harvard Museums' second Community Day.
The annual event, which offers visitors free admission to Harvard's six museums, drew more than a thousand visitors on a recent sunny Sunday afternoon.
There were any number of wonders to catch the eye as families from Cambridge and Boston, and visitors from farther afield strolled from the Harvard Museum of Natural History (HMNH) and the Peabody Museum to the Semitic Museum, Busch Hall, the Arthur M. Sackler Museum, and on to the Fogg Art and the Busch-Reisinger museums.
In addition to permanent collections, like the "Glass Flowers" at HMNH and the fabulous fine art at the Fogg – features that draw people to Harvard time and time again, there were special events to delight Community Day visitors. Children got their first peek through a real microscope during micromystery shows. Harvard student dancers displayed the color and movement of Ballet Folklorico and Native American Indian tribes. And masterworks of East Asian painting and an actual replica of an ancient Israelite dwelling offered visitors bright glimpses into the past.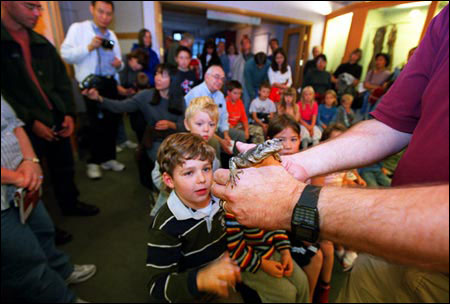 Treasure troves of Cambridge and Greater Boston, Harvard's museums are invaluable archives tied to Harvard's teaching mission and are open to the public, offering special exhibitions and programming for families and public schools year round.