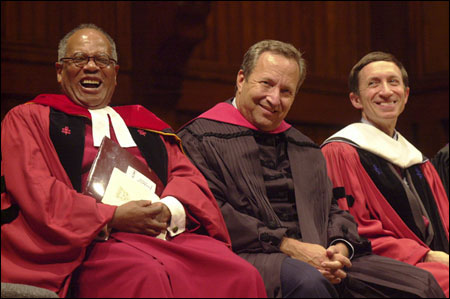 At the Harvard Divinity School's (HDS) annual convocation Monday (Sept. 20), the Rev. Professor Peter J. Gomes took full advantage of his first time speaking at the occasion by delivering a lengthy and impassioned plea for the school to rekindle the intellectual excitement and institutional vigor he encountered when he arrived at HDS as a student in 1965.
"It is even more urgent now than then that … religious analysis be provided in a world where religions and their policies are front-page news in nearly every cultural climate, domestic or foreign," said Gomes, the Plummer Professor of Christian Morals and Pusey Minister in the Memorial Church. "Never more than today have we needed every resource available to combat religious illiteracy."
President Lawrence H. Summers foreshadowed Gomes' remarks in his opening greeting, noting that interest in and the relevance of religion has not, as some predicted, diminished as scientific thought has advanced; it has, in fact, taken on a greater prominence in everyday life and thoughtful discourse.
"Religion – how we understand it, how we practice it, how we carry it forward, how we promote it – is probably going to be a question that is more central to the twenty-first century than it was to the twentieth," said Summers, citing the role of religion in international relations, in the ethical implications of scientific breakthroughs like stem cell research, and in the spiritual life of a growing number of Americans.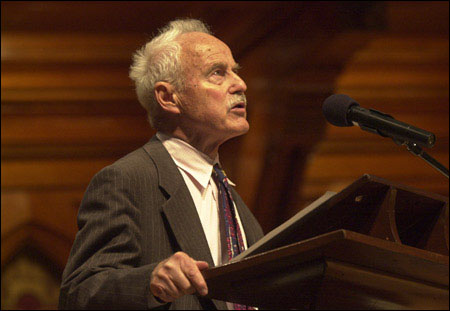 Gomes, who marks his 30th year on the HDS faculty this year and whom HDS Dean William A. Graham called "the leading preacher of his generation," spoke to the assembled Divinity School students, faculty members, and friends on "The Backward Glance – The Forward Look." Although HDS, Harvard's oldest graduate school, was founded in 1816, Gomes trained his historian's eye primarily on its past half-century.
"The Divinity School as most of us in this room know it is hardly 50 years old," he said, detailing the 1947 report commissioned by the University that called for reinventing the School. HDS had languished since the end of World War I and boasted an elderly faculty "that consisted of a mystic, a skeptic, and a dyspeptic," said Gomes.
When Nathan Pusey became Harvard's president in 1953, he breathed new life into HDS, and by Gomes' arrival as a student in 1965, "the place seemed both venerable and vigorous, and I have lived off that excitement ever since," he said. "Here, for the first time, I encountered intellectual giants who were also persons of great faith."
Without specifically chronicling any decay of that vigor and excitement, Gomes laid out specific suggestions for how HDS could reclaim its glory days. The school should create a faculty chair specifically for the study of evangelical religions – and fill it with a scholar who is an evangelical. As it has throughout its history, HDS should make the teaching of undergraduates more central to its focus, said Gomes, thus strengthening and enlivening the connections between the Divinity School and the Faculty of Arts and Sciences.
Gomes also called for greater prominence for the study of world religions, proposing that HDS call its faculty the Faculty of Divinity and World Religions, and for a renewed commitment to the training of professional ministers. A creative use of "professors of practice" could enhance the School's reputation as a ministerial training ground, which, he said, currently lags behind the divinity schools of Yale and Princeton.
In his final point, Gomes urged his colleagues to speak out with their advocacy and analysis. "We have an opportunity and a mission to be what, for lack of a better term, I will call 'public theologians,'" he said.
Harvard Divinity School's convocation, held for the first time in Sanders Theatre, is the University's only remaining formal convocation and one of the few occasions, Summers noted, that calls for faculty to don academic regalia. Also at this year's event, HDS donor and Harvard College alumnus Charles Merrill was honored for his 40 years of support of the Merrill Fellows Program, which provides sabbatical fellowships to parish ministers.