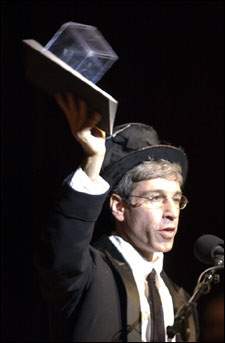 ---
View live webcast
---
On Sept. 30 at Sanders Theatre, good and bad science will take center stage at the 14th First Annual Ig Nobel Prize ceremony. Showered with applause and paper airplanes, this year's class of winners will be honored for scientific achievements that first make people laugh, then think. Genuine Nobel laureates will be on-hand to present the prizes.
The ceremony, which starts at 7:30 p.m., is organized by the science humor magazine "Annals of Improbable Research" (AIR), in cooperation with several Harvard student groups.
The 14th First Annual Ig Nobel Prize ceremony will be held at Sanders Theatre on Sept. 30 at 7:30 p.m. Tickets – which run from $23/28 for the general public, and $20/22 for Harvard students – are available from the Harvard Box Office at the Holyoke Center (open Tuesdays-Saturdays from noon to 6 p.m.). Call (617) 496-2222.
It will be broadcast on NPR's 'Talk of the Nation/Science Friday' program on Nov. 26.
The Igs (as they are familiarly known) celebrate the unusual, honor the imaginative, and spur interest in science. Each year, 10 new winners are invited to travel to Harvard – at their own expense – for the pomp-and-pageantry-filled ceremony. The winners' identities and nationalities are kept "strictly secret" until the night of the ceremony.
In addition to the awarding of the prizes, this year's gala event also celebrates the theme "Diet," and will include:
"The Atkins Diet Opera" – a new miniopera staring professional opera singers and the Nobel laureates.
"Diet vs. Diet" – a live, scientific comparison of several diets, supervised by doctors from Harvard Medical School.
Talks by Zone Diet inventor Barry Sears, Nobel laureate Rich Roberts, physicist Harry Lipkin, evolution educator Eugene Scott, and deep sea explorer Sylvia Earle
The win-a-date-with-a-Nobel-laureate contestWhat's more, on Oct. 2, the new Ig Noble winners will try to explain their findings at a free public lecture at the Massachusetts Institute of Technology (MIT). Also attending will be food scientist Massimo Marconeto, who will demonstrate his research on Luak Coffee (honored with the 1995 Ig Nobel nutrition prize). It is made from beans ingested and excreted by a bobcat-like animal. The lectures will be held in building 34, room 101 (50 Vassar St.), on the MIT campus.