Harvard University's Faculty of Arts and Sciences (FAS) plans to outfit all of its student housing for wireless Internet access over the next 12 to 18 months, making the University one of just a handful of institutions nationwide that have announced plans to offer full wireless coverage in most dormitories.
While FAS's undergraduate and graduate residence halls already offer wireless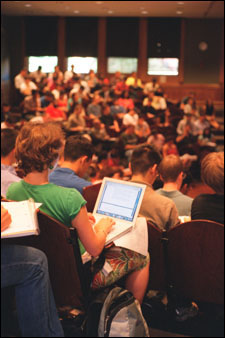 access in common areas such as lounges, libraries, dining rooms, and hallways, coverage will now expand to include all student rooms in Harvard College and Graduate School of Arts and Sciences dormitories. The number of wireless access points in residential buildings affected by the project will increase from roughly 700 to 1,500.
"With 85 percent of Harvard College freshmen now arriving on campus with laptops, we are responding to strong student interest in wireless access," says William C. Kirby, Edith and Benjamin Geisinger Professor of History and dean of the Faculty of Arts and Sciences. "Once our dormitories have been more fully outfitted for wireless, our students will enjoy and benefit from the latest in technology – not least of which is the flexibility afforded by a wireless network."
Other U.S. universities that have announced significant wireless installations in dormitories include Dartmouth College, Massachusetts Institute of Technology, and Carnegie Mellon University. Interest in dormitory wireless access is particularly strong at Harvard because nearly all undergraduates – some 97 percent – live in campus housing. Roughly 6,300 undergraduates and 1,000 FAS graduate students are expected to benefit from the expansion of the wireless network.
"The number of Harvard undergraduates with laptop computers has exploded in recent years, and with most new laptops outfitted with wireless capability, it's the perfect time for us to make the leap to wireless everywhere," says Franklin Steen, director of Harvard Arts and Sciences Computer Services. "Installation of quality wireless connectivity throughout the dormitories will be an asset to student life."
The project will be complex from a construction standpoint, because many of the buildings involved are historic structures with thick masonry walls. It's expected that each dormitory will experience minimal disruption and inconvenience during the installation of wireless access nodes.