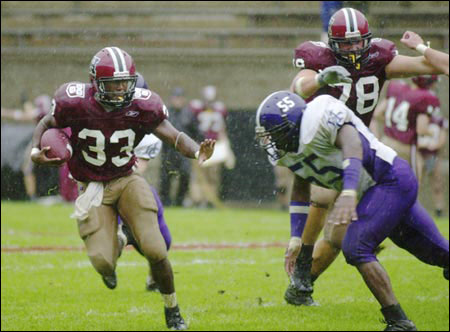 Though the rain may have fallen indiscriminately upon the Harvard and Holy Cross football teams this past Saturday (Sept. 18) at the stadium, it was the Crusaders alone who felt the sting of a different kind of storm: sophomore running back Clifton Dawson. The second-year unleashed a torrent of offense against the Crusaders, amassing 184 yards and three touchdowns.
Along with Dawson's performance, Brian Edwards' spectacular 87-yard punt return for a touchdown, and a pair of field goals, the Crimson served up a 35-0 drubbing of Holy Cross (0-3).
Dawson kicked off the barrage on a 1-yard touchdown run with just over four minutes remaining in the first quarter. On their following drive in the second stanza, the Crimson took a two-touchdown advantage when Dawson bowled through a host of Holy Cross defenders on a 14-yard carry into the end zone.
And though Holy Cross responded with a strong drive of its own, efficiently marching to Harvard's 21, the crusade was cut short when defensive back Gary Sonkur '05 forced a fumble with a hard hit on Holy Cross' Sean Gruber. Once James Harvey '05 recovered the loose ball in the end zone for the touchback, it was clear that the crummy afternoon belonged to Harvard.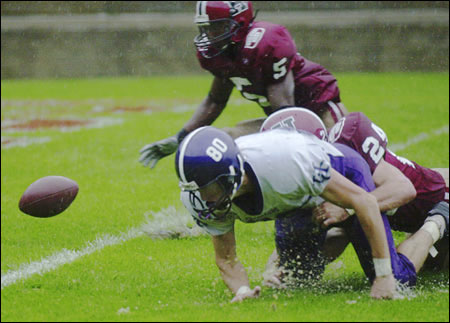 Indeed, on the Crimson's ensuing drive, Dawson slipped out of two ankle tackles to break free for a 74-yard touchdown run: his third of the game. A high snap on the point-after-attempt gave way to some handy improvisation on the part of holder Robert Balkema '06, who connected with Bobby Everett '05 on a short pass for a 2-point conversion and 22-0 lead.
Before breaking for halftime, Harvard opened the floodgates with one last touchdown as return specialist Brian Edwards '05 fielded a Holy Cross punt 87 yards to make it 29-0. Edward's TD was the second-longest runback in Harvard's 131 seasons. Two Crimson field goals in the third period set up the 35-0 final.
The Crimson D picked off three passes on the day, and limited the Crusaders to nine first downs and 61 rushing yards. Holy Cross controlled the ball for just 6 minutes and 23 seconds during the entire second half.
Meanwhile, Dawson was named Ivy League offensive player of the week for his outburst against the Crusaders. The protective Canadian extended his streak of consecutive carries without a fumble to 219.
Harvard (1-0) opens its Ivy season this Saturday (Sept. 25) against host Brown, 35-7 winners over Albany this past weekend. Visit http://www.gocrimson.com for updates.