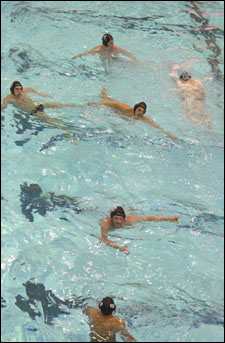 On the surface, Navy's last-second victory over the Harvard men's water polo team this past weekend had all the makings of a hard-fought match between two good teams. Regrettably, the 11-10 setback seemed to knock the wind right out of the Crimson's sails, setting a gloomy course for host Harvard for the remainder of the ECAC championships.
Opening the three-day tourney against the No. 1 seeded Midshipmen on Friday (Sept. 24) at Blodgett Pool, the underdog Crimson appeared poised to force an overtime after sophomore Alessandro Lazzarini tallied a goal with just 35 seconds remaining in the final period to knot the score at 10-10. Some 30 seconds later, the Harvard men found themselves on the wrong end of the game's other 11th-hour goal: a last-second, game-clinching shot by Navy's Don Anderson.
The exasperating loss may have proved too disheartening for the Crimson, as evidenced by the team's eighth-place showing in the 10-team tourney. Indeed, with the exception of an 11-4 dismissal of Queens College on Saturday (Sept. 25), Harvard never seemed to recover the buoyant, inspired play it exhibited against Navy. Rather, in their remaining two contests, the Crimson twice fell short, dropping a 6-5 contest to Bucknell in Saturday's second match, and an 8-6 decision opposite the Massachusetts Institute of Technology on Sunday (Sept. 26). St. Francis College, meanwhile, beat Bucknell, 13-7, to capture the title on Sunday.
The tourney was not all darkness for the Crimson, however, as two of Harvard's own were named to the coaches' All-Tournament teams. Co-captain Rick Offsay's six goals in the four contests earned the senior a first-team selection, while fellow co-captain Mike Gerrity '05 landed second-team accolades.
Harvard (2-4) was squaring off against MIT as the Gazette went to press. For results, visit http://www.gocrimson.com.