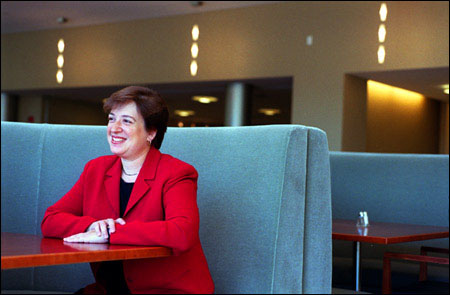 As she enters her sophomore year as dean of Harvard Law School, Elena Kagan lays out an ambitious agenda for her tenure. Her immodest plans include expanding the faculty, changing the face of the campus, improving the student experience, and reviewing a curriculum that has served the school for well over a century.
But if students want to think of her as the "free coffee and skating rink dean," that's OK with Kagan.
"You have to keep your eye on both balls, the long-term and the short-term," says Kagan, who calls some of the changes she made almost immediately upon arrival last summer – a stylish renovation of the formerly dreary first floor of Pound Hall, complete with free coffee; a minor spruce-up to Hemenway Gym; and the much-lauded patio upgrades outside the Harkness Commons – "down payments." Ditto the outdoor skating rink that sprung up practically overnight outside "the Hark" last winter.
Scratch the shiny surface of these short-term accomplishments, however, and one finds the dean's vision for the future of Harvard Law School (HLS).
"There are some people who are good at the big visions of the future … and there are other people who are better at the here and now, have incredible interpersonal skills, and can really make the moment much better than it was. [Kagan] really can do both," says Professor of Law Carol Steiker. "I think she's going to go down as one of the great deans of the Law School."
Reviewing 130 years of curricular history
Perhaps the most ambitious item on Kagan's far-reaching agenda is also the most embryonic. She's launched a curricular review to re-examine how law is taught – for the first time since HLS Dean Christopher Langdell introduced the current curriculum in the 1870s. Langdell's vision that first-year students study contracts, torts, property and procedure, and criminal law endures, says Kagan, for better or for worse.
"It really is time to say, 'Is that really what students should be taking? Are they learning the set of competencies that they need to master in order to go out and be a great lawyer in today's world? How has the world changed in the last 100 and some years?'" she says. Kagan is confident that the multiyear review will turn up an intensified focus on international and comparative law, something relevant to almost all practicing lawyers today.
Just as Langdell's 19th century curriculum became the model for most modern law study in America, so will the eyes of the nation's legal scholars be on Harvard as it again rethinks how it trains lawyers. Kagan welcomes the scrutiny with the blend of confidence, reverence, and awe that seems to run through her first year as dean.
"If we do our jobs well in this area, we'll be creating a law school curriculum not just for Harvard but for legal education in general," Kagan says. "It's the great fun of this job, but it's also the great responsibility of it."
Growing the faculty
Asked to outline her first-year achievements, Kagan points quickly to a nearly unprecedented highlight of her first year at the helm of the nation's oldest law school. In the past academic year, the Law School made seven senior faculty appointments, far more than in any year in several decades.
"This has historically been a place where it has been difficult to make appointments," says Kagan. "We have high standards and we have a faculty that
Not your father's Harvard Law
When President Lawrence H. Summers tapped Elena Kagan to lead Harvard Law School (HLS) in the spring of 2003, there was much fanfare made of the fact that she was the first woman dean of the famously male institution. After all, HLS didn't admit women until 1950, and it had no female tenured professors until 1972.
After a year on the job, Kagan reflects that the historic significance of her gender continues to resonate – and doesn't matter in the least.
"It's not something I think about on a daily basis, and it's something that in many ways has seemed remarkably not relevant in the job," she admits. She's perceived no differential treatment from the faculty or other colleagues.
Yet she's aware that for others, having a woman in the dean's seat signals an important direction for Harvard Law School.
"For many of our women graduates, this was a not very hospitable place for many years. For those graduates, it does have real meaning that the place is being led by a woman," she says. "In the wider world, it does send a message that Harvard Law School is today a very inclusive institution, and I think that's a great message to send."
– Beth Potier
knows how to argue." She credits her predecessor, former Dean Robert Clark, for uniting a faculty that was once famously divided, and the faculty itself for a spirit of cooperation and respect. And although she's put remarkable energy into getting to know the faculty – she met individually with all 81 before she became dean last July, and repeated the process again this summer – she shrugs off any role her diplomacy may have had.
"There's been a steady increase in people's willingness to work together, and people understanding that working together promotes the good of the institution," she says.
The appointments represent Kagan's unambiguous march toward growing the Harvard Law School faculty to decrease the student-faculty ratio. A long-term plan calls for adding 15 new faculty positions in the next 10 years, no small feat when one considers the number of likely faculty retirees who will need to be replaced. But Kagan would be happy to exceed that target. "As many quality appointments as we can make, that's how many we should make," she says. "The thing that will most change Harvard Law School over the next 10 years is the quality of the faculty. … That's what makes a school."
Enhancing students' experience
If the faculty makes the Law School, it's the students that sustain it, Kagan asserts. "We are what we are because of the students who come here and what they go on to do in their lives. We should communicate that to them in everything that we do," she says.
Kagan has put the student experience at the center of all her initiatives. She's eager to correct the impression that despite its shining reputation and brilliant faculty, Harvard Law School has not historically been student-friendly.
"I think that's a shame," she says. "I want this to be a place where students have a great experience inside the classroom, have a great experience outside the classroom."
Bricks and mortar – or, perhaps more accurately, concrete and cinder block – top Kagan's to-do list in enhancing student experiences. This summer saw a renovation of the Harkness Commons, the Walter Gropius-designed building that served, grudgingly, as the Law School's student center. Kagan describes the former Hark as "an above-ground tunnel for light-allergic people."
Although constrained by the building's relatively small size and its historic status, the renovation succeeded in creating a far more user-friendly space where students can gather informally to study or socialize. The dean awaits the reactions of returning second- and third-year students. "I think people's jaws are going to drop," she says.
Molly Dunham 2L, a student representative to the physical planning committee, gives Kagan high marks. "I have been very impressed in the past year with the way she conducted committee business and the concrete improvements I've seen on campus," she says. An admitted "big fan" of the new dean, Dunham lauds Kagan's practical, efficient decision making – and her tenacity. "If you tell her something can't be done, you'd better be ready to back it up with a brick wall of an obstacle. Otherwise, she will find a way to do it," Dunham writes in an e-mail.
Looking ahead, the School just announced the selection of Robert A.M. Stearns Architects to oversee the planning and design for its so-called "northwest corner," a space to be created by reclaiming surface parking, moving some historic structures, and demolishing several Harvard-owned buildings. While specifics are as yet fuzzy, Kagan promises the new area will serve students with space for publications and activities, student services offices, and classrooms.
By balancing such long-term changes whose impact will be felt by the next generation of students with improvements that current students will enjoy the moment they set foot on campus, Kagan is winning kudos around Harvard Law School.
"After just one year, the Law School is a different place under Dean Kagan," says Dunham. "With more time, I think she will drastically improve the student experience at HLS."