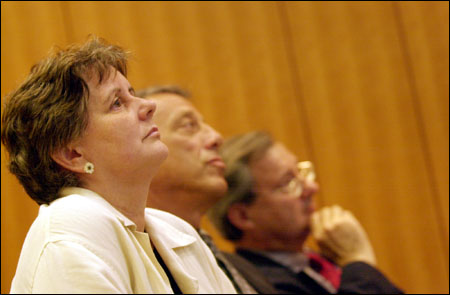 Harvard Medical School (HMS) officially kicked off a new research center Monday (Aug. 23) focused on understanding and reversing the immune system dysfunction that both causes diabetes and that presents a hurdle to potential cures.
The new JDRF Center for Immunological Tolerance in Type 1 Diabetes joins 10 laboratories at various Harvard institutions and the Massachusetts Institute of Technology into a center studying why the body's defenses, designed to attack foreign invaders like bacteria and viruses, attack the body's own insulin-producing cells.
It is the destruction of insulin-producing beta cells in the pancreas that causes type 1 diabetes. Without beta cells, the body cannot produce insulin, a critical hormone that helps the body metabolize sugar. Diabetics are forced to inject insulin daily to control blood sugar levels and to avoid skyrocketing levels that can cause coma or even death.
Recent research into beta cell transplantation has borne some success. More than 250 people have successfully undergone transplants, but those transplants are not without problems. Patients have to take powerful drugs to prevent the body's immune system from attacking the donor cells. In addition, the supply of cells for transplantation is very low.
A potential solution to those problems is offered by stem cell research, through which scientists hope to create new insulin-producing cells that the body would recognize as its own. As diabetes is an auto-immune disease, however, the success of transplantation of those cells would depend on re-establishing the body's immune tolerance of its insulin-producing cells.
The new center is dedicated to understanding that "immunological tolerance," how it breaks down to cause diabetes and how to re-establish it to effect a cure, according to the center's Co-Director Diane Mathis, an HMS professor at the Joslin Diabetes Center.
The JDRF Center for Immunological Tolerance in Type 1 Diabetes is funded by the Juvenile Diabetes Research Foundation (JDRF), a leading funder of research into type 1 diabetes, also called juvenile diabetes, in partnership with discount retailer Marshalls, which has raised $7.4 million over the last 10 years for diabetes research.
HMS Dean for Academic and Clinical Programs Raphael Dolin said the new center takes advantage of the combined talents of researchers involved to address an important public health and medical problem.
"We're delighted to celebrate the launch of this center," Dolin said. "This represents not only an important initiative against a public health problem, but also an opportunity to take advantage of the extraordinary strength we have here in science and in clinical science to address an important medical problem."
Peter Van Etten, president and chief executive officer of Juvenile Diabetes Research Foundation International, said the organization's mission is to find a cure for diabetes. Understanding how immune tolerance breaks down to cause type 1 diabetes and how it can be re-established is a critical step toward accomplishing that mission.
Van Etten said the organization, which has spent $800 million on research since its founding in 1970, is both thrilled by recent breakthroughs and frustrated by the "long road ahead" to finding a cure.